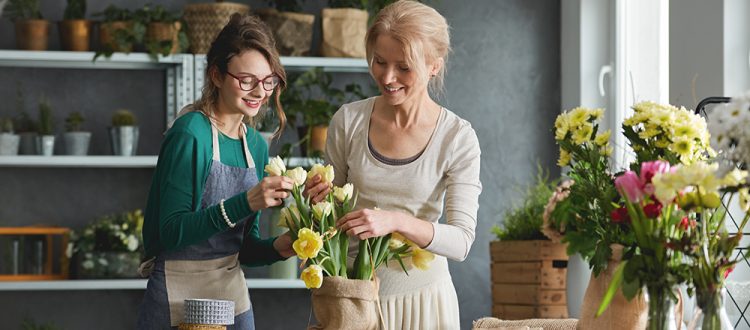 Get Your Website Ready for the Holidays
Did you know that 88% of customers won't return to an online site if they have a negative experience with the website such as confusing layout, difficulty navigating, or trouble finding what they want? You definitely don't want to alienate that huge chunk of the market, especially in the first 2.6 seconds consumers want to find what they're looking for. That's why it's so important to have an easy-to-navigate website for your flower shop, especially during high purchase seasons like the holidays. Check out these simple and effective strategies to get your website ready for the holidays to maximize sales and return customers all year long.
Set up Your Website Like a Physical Store
You want customers to be excited and inspired to buy your products as soon as they click onto your website, just like you would if they walked past your storefront. Think of your homepage as your display window by placing your featured seasonal items that will appeal for holiday shopping such as poinsettias, wreaths, evergreen bouquets, centerpieces and gifts. Once customers see the display of the homepage featuring your best-sellers and seasonal headliners, they'll be enticed to "move" through the store to explore your site and see what else you have to offer.
Make Your Menu Easy to Navigate
Now that you've enticed customers with your eye-catching homepage, it's important to make it easy to navigate your site so customers can check out all of your merchandise. The first thing to remember is to make your "Menu" and category buttons easy to decipher on your page. Customers are often shopping online during a quick coffee break or while they're watching tv late at night, so it's important to make your site easy to navigate with straightforward, clickable shopping options. Make call to action buttons stand out with bold, prominent colors and specific categories highlighting particular flowers, gifts, and occasions. Enticing calls to action that evoke an emotional response such as "Shop Holiday Magic" or "Find Holiday Gifts for Her" makes their online shopping experience easy, so they don't have to hunt all over your site for suitable gift options.
Include Local Items Available for Delivery
It's vital to keep your website up-to-date with the latest items available for local delivery. Since not everyone will be setting foot in your physical store, your website should feature new products that you have available, especially those seasonal items that will only be available during the holidays. It's also essential to highlight the full range of price points from lowest to highest to ensure you're reaching all potential customers. If your home page only features your most high-end products, it may discourage some buyers from exploring the rest of your site. Feature discounts, strike through pricing, and seasonal specials prominently with call to action buttons such as "Black Friday Deals" or "Last Minute Holiday Gifts" to entice buyers to take advantage of short term deals.
Suggest Custom Add-Ons to Your Cart Page
Customers that shop for online flowers are usually searching for a quick and easy gift without necessarily navigating the entire site. Adding a custom add-on button on your "Cart" or "Checkout" page allows customers to quickly view suggested add-on items without having to click off the page or re-navigate the site. Suggesting merchandise that is "Frequently Bought Together" is a great way to expose customers to additional gifts they didn't even know they needed. Someone purchasing a holiday flower arrangement might be interested to know that it goes well with a box of chocolates, baked goods, greeting card, or other gift baskets your shop features for the holidays. This easy tip not only exposes more products to your customers, but can increase each sale by up to 43%!
Continue to Update Your Site
Remember to update your site with new merchandise, specials, and seasonal items throughout the year so your customers are always aware of trending flower gifts and seasonal merchandise. Whether it's the holidays, Valentine's Day, Easter, or graduation and wedding season, your website should offer your customers easy shopping options with eye-catching displays that inspire them to buy more!
Learn more watching "Get Your Website Ready for the Holidays" on-demand.
0