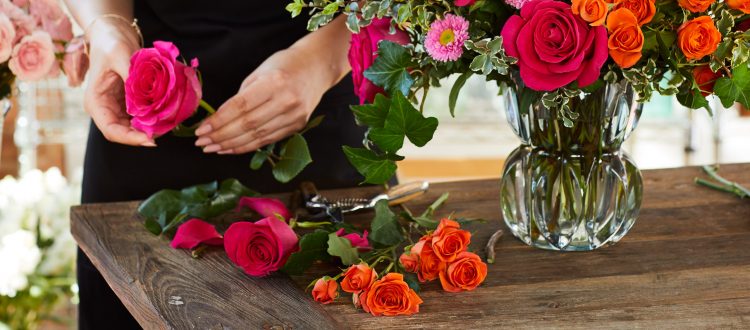 Creative Ideas to Increase Sales for Valentine's Day
Valentine's Day is the most romantic day of the year, or at least it's the one day of the year where people are more compelled to express those romantic feelings, usually with gifts that include bouquets of flowers. The Society of American Florists says that about 28% of adults purchase plants or flowers for Valentine's Day, so it's a great time for your business to get creative and put your romantic foot forward to show off your Valentine's Day merchandise. Check out some easy and inventive ways to increase your sales this Valentine's Day while making shopping easier for your romantically motivated customers.
Make a Romantically Festive Storefront 
Your storefront is your calling card to street traffic, so you want to attract both new and returning customers with as much visual fanfare as possible. Adorn your front window with a plethora of pink and red Valentine's Day balloons, hearts, streamers, and floral bouquets that will catch the eyes of passersby. Think red and pink balloon arches or floral selfie walls with the word "Love" near the entrance to entice customers to come inside and explore your Valentine's Day flowers and gifts.
Make Colorful Banners and Clickable Links on Your Website
A large portion of customers do their shopping online, so you want to make it easy for them to navigate your website and find your Valentine's Day flowers and deals. Since your homepage is the virtual version of your storefront window, update it with eye-catching banners and clickable tags such as "Shop Valentine's Day Flowers" or "Valentine's Day Gifts" that will directly link your customers to your Valentine's Day merchandise.
Feature a Variety of Bouquet Price Points
About 84% of flowers purchased for Valentine's Day are roses, with 69% of them being red roses. However, don't be shy about displaying pink and red bouquets featuring flowers other than roses. Offering a variety of Valentine's Day bouquets at different price points is a great way to suggest options for customers that may not be able to afford the top of the line bouquet of long stemmed roses. Consider early-bird discounts to shoppers that place their flower orders a week or two before Valentine's Day.
Suggest Valentine's Day Add-ons or Specials on Bundles
Bundling Valentine's Day flower bouquets with other romance-inspired merchandise is a great way to boost sales and give your customers same-day gifting options they may not have realized was available. If you offer additional chocolates, candles, balloons, baked goods, or stuffed animal gifts, display them together with Valentine's Day flower bouquets in your store window or homepage to give your customers more options for gift-giving ideas. You could also offer a discount to further encourage customers to add to their original purchase. For example, "Save 10% when you add a box of chocolates to your flower purchase," or "Upgrade to 2 dozen roses and save 20%," might be just the nudge customers need to increase their gift purchase. This is a great way to increase sales while providing an easier shopping experience for your customers, as they get more bang for their buck.
Utilize Social Media
Update your social media pages along with your website to let customers know what's new for Valentine's Day. You don't have to limit yourself by only posting flowers and gifts. Consider adding fun blogs about Valentine's Day history, traditions, or original gift ideas that people would be interested in reading. Include related merchandise links within the blogs to garner more traffic to your store website for customers to find their Valentine's Day gifts.
0