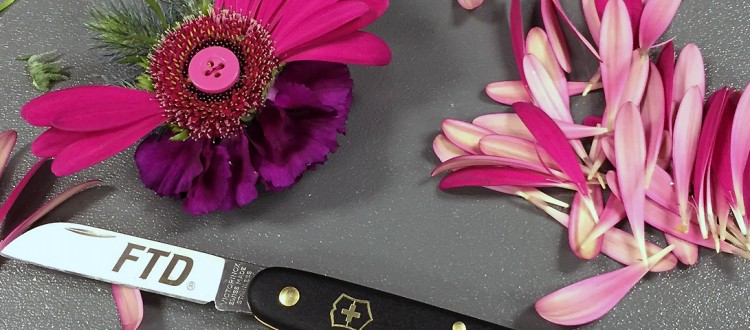 The Top 10 Reasons You Need to Register Now for FTD Boot Camp
FTD Boot Camp was created to give florists the opportunity to sharpen your business and design skills with the ultimate goal of driving local business to your shop. This fun-filled and informative three-day workshop presents a perfect blend of business, design and quality training for shop owners and managers.
There are two Boot Camp sessions scheduled for 2016. The first will be held June 6-8 and the second will be August 1-3.
Below are our top 10 reasons why you need to register for FTD Boot Camp (right now!).
If you act now, you can enjoy an early bird discount!
FTD Members can attend Boot Camp for $699 (the non-member cost is $799). However, if you register for the June session by April 6, or the August session by June 1, the cost is discounted by $100! Click here to register and learn more.
You'll learn from AIFD-caliber instructors.
It is my pleasure to lead this three-day workshop. In addition to being an FTD Education Consultant, I am also a past president of AIFD and have more than 30 years of retail floral experience.  Pete Samek AIFD, FTD Quality Services Representative, also assists during the hands-on design class.
You'll get trend-savvy.


Understanding consumer trends is crucial to success. Since not every trend works in the same way for every florist, you'll learn the best ways to capitalize on current trends for your specific customer base.
You'll hone your business skills.
Great designs might be your specialty, but you also need smart business skills to grow your business. FTD Boot Camp covers everything from training employees to effective sales techniques.
You're not just a face in the crowd.


We keep our student-to-teacher ratio low so that you can enjoy personal attention and have all of your concerns addressed. Additionally, Boot Camp is capped at 16 attendees.
You'll learn to maximize social media.
Are your Facebook and Instagram posts working for you, against you or just landing with a thud? Our team will show you how to best use these tools to engage your customers.
Food and swag!
You'll enjoy daily lunch and refreshment breaks as well as the networking dinner. All of your flowers, design tools and materials are included too.
You'll strengthen your relationship with FTD.


Boot Camp aligns with FTD's driving goal of inspiring and delighting customers. By the end of the session, you'll be ready to put this goal into practice at your own shop and have a better understanding of all of the benefits available to you as an FTD Member Florist.
Learn more about FTD Boot Camp and register today at FTDi.com/FTDUniversity/BootCamp.htm.
3