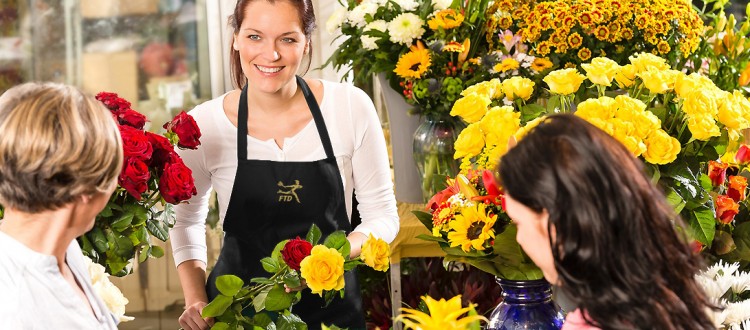 Win Local Business
This Mother's Day
Mother's Day is basically the Super Bowl of the floral industry. It's a huge holiday and getting it right (or wrong) can have a big impact on your year-round business. According to the Society of American Florists, the average spend on Mother's Day flowers in 2015 was $70. How can you convince customers to spend that hard-earned money in your shop? Here are a few strategies to consider.
Know your trends.
Thanks to tools such as Pinterest and Instagram, consumers are more trend-savvy than ever before. Capitalizing on current trends in a way that makes sense for your shop can help you draw in customers. Not sure where to start? FTD Education Consultant J. Keith White, who served as the creative director of American Floral Trends Forecast 2016-2017, recently discussed hot trends in a FTD webinar. You can learn more here.
Make sure your website is up to date.
Take a close look at your website. Is your basic information, such as shop hours, delivery information and order cutoff times, correct? Are you featuring your best-selling items on your homepage so that customers can find them quickly? You don't want to lose business because customers have to work too hard to find the information they need.
Use social media to your advantage.

Update your social media pages regularly to keep customers engaged with your shop. Instead of just asking customers to "Like" your page, give them a reason to do so (for example, a giveaway or exclusive discount). For post ideas and pictures of FTD featured arrangements, please visit FTDi.com/MothersDay.
Advertise.
FTD's exclusive co-op advertising program was designed to help build local brand awareness and drive sales to your shop. When you feature the Mercury Man in your advertising, FTD will reimburse you for 50 percent of your costs, up to $2,500 ($3,000 Canada) in a calendar year. To learn more about this program, please visit FTDi.com/coopadvertising.
Consider offering add-on items.
Flowers are even sweeter paired with treats. Why not offer chocolates, cookies or other goodies right next to your cash register?
The FTD Marketplace team is ready to help you find the perfect items for your shop. Give them a call at 800.767.4000.
Reward word-of-mouth business.
Consumers often turn to friends and family for recommendations. A great way to thank your loyal customers for referrals is by giving them a discount off their next purchase. Just ask new customers how they heard about your shop and note the referral in your point of sale system.
Pow-wow with your team.
Avoid disappointing customers by ensuring that all of your team members are on the same page. Before you get swamped with Mother's Day tasks, gather your entire team for a meeting. Review your everyday store policies as well as Mother's Day-specific concerns. You might also find it useful to view the free business-building how-to videos and webinars available at FTDUniversity.com.
For even more Mother's Day preparation ideas and materials, please visit FTDi.com/MothersDay.
4