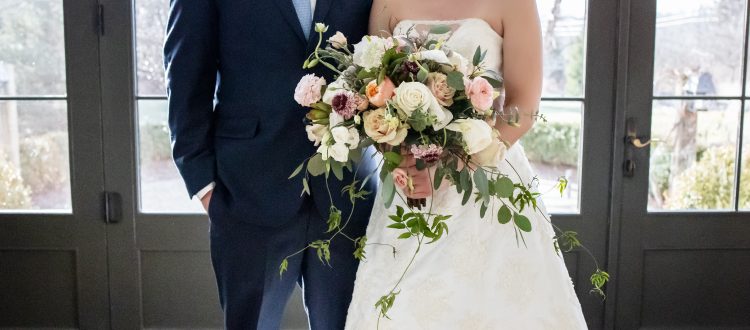 Be the Expert: Utilizing American Floral Trends® in Your Designs
The success of your floral business relies heavily on knowing what your customers want and providing it to them in creative ways that will capture their attention. Anticipating trends in design and customer desires can be tricky. So how do you know which direction to go in when it comes to predicting the types of flowers, designs, colors, and materials to feature in your products that will catch customers' eyes?
Creative Director J. Keith White AIFD and his team of industry experts such as designers, educators, and consultants have collaborated to deduce the latest floral trends for the coming year. After careful research of popular styles making a splash on social media along with collaborations with authorities from related industries, American Floral Trends® have developed a guide to 2023 floral trends that will help your business stay on top of the latest design trends your customers are going to gravitate towards when they purchase flowers.
After careful consideration, White and his team have introduced four American Floral Trends® that each reflect a specific color palette and feeling to inspire your floral designs for any variety of seasons and occasions throughout 2023.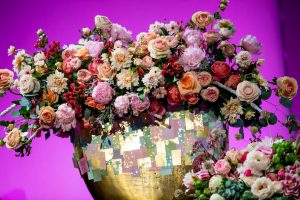 This trend is meant to invoke the feeling of a pleasant daydream or fantasy. Think soft, delicate textures and muted, hazy shades of color. The palette includes the warm colors of Peachy, Perfect Pink, Coral and Heather to create a sheer, soothing visual, with cooler accents of Ice Blue and Flannel to offset the warmth and add dimension. "Reverie" is going to be very popular in bridal bouquets and wedding decor, but can easily be tweaked for seasonal or holiday looks. Make sure that colors aren't oversaturated to keep the overall palette more sheer and ethereal. Using textured elements like fringe ribbon or ostrich plume with dahlias, hydrangeas, garden roses, and cascading foliage are some examples of how to evoke the daydream-like quality that the "Reverie" trend seeks to evoke.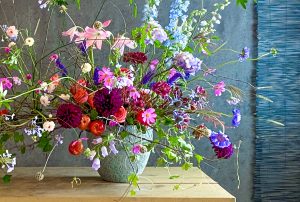 More is more when it comes to designing looks inspired by "Passion." Rich and romantic shades of Fuschia, Violet, Carnation Red, Fuschia Bright, headline the "Passion" trend, while Larkspur Blue and Navy accents don't detract from the rich saturation of the bold palette. "Passion" follows a Maximalist approach when it comes to adding more texture, color, and luxury into floral design, where passion bubbles over in exuberance. Incorporate antique gold and black accents, large urn vases that evoke decadence, or small crystal vases filled with oversized blossoms that express romance.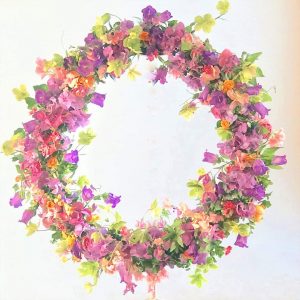 "Imagine" is inspired by the bold colors, ideas, and graphics of the Metaverse, where your inspiration is limitless. Put things together that you may not immediately think work, go bolder and brighter with colors, geometric patterns, and texture combinations that leave you feeling off-balance. This is the chance to be inspired by what's cool, different, or out of the box. Create looks that are abstract, surreal, and inspirational. The bold colors of Raspberry, Tangerine, and Purple, lead the way while equally expressive accents of Spring Green, Teal Blue, Olive Bright continue to add pomp and circumstance.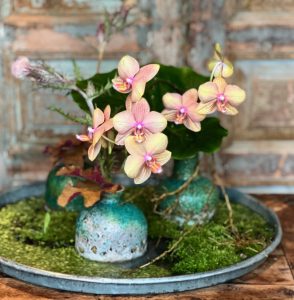 Get back to the "roots" of floral design with the earthy, natural ambiance that "Cultivate" is meant to conjure. The color palette utilized focuses on Basil, Hunter, and Moss Green, with accents of Robin's Egg Blue, Lavender, and Red Clay. The colors are all reflective of materials found in nature, and the entire trend centers around the organic basis of sustainability, surviving in nature, and using what is available in new and simple ways. White's example of a containerless terra brick with embedded succulent cuttings that will take root and continue to grow embodies the natural essence that "Cultivate" represents. Incorporating organic elements like mosses, birch branches, and vines with minimal containers creates an agrarian, rustic look that's fresh and unpretentious.
Keep in mind that all of these trends are a feeling, or a thematic guide, to help inspire your creative energy. Draw on the trends to inspire your design and add your personal flair to cultivate looks that speak to the occasion for which you're designing.
0