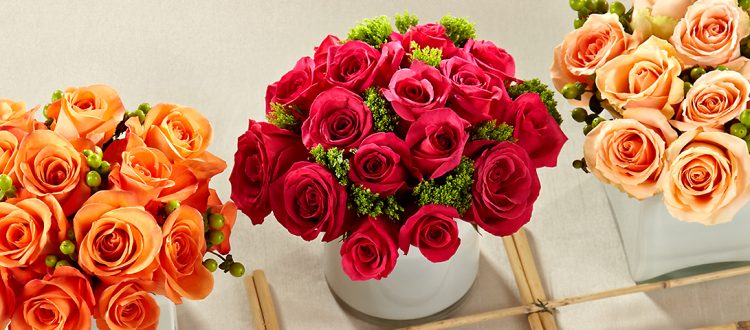 Five Tips for Cultivating Summer Rose Sales
Is your shop in the midst of a dreaded summer slump? Turn to the most popular flower around, the rose, for help! Roses are plentiful and available at great prices in August, which can translate into big sales at your shop. Here are five of our favorite ideas.
1. Host an in-store event
During the summer, there aren't any floral holidays in sight. Keep yourself top-of-mind with your customers by hosting an in-store event featuring roses. We love the idea of a "Rosé and Roses Night." You could serve your guests chilled rosé wine and simple appetizers while they create a summery design featuring roses. Be sure to grab some sparkling pink lemonade for the non-wine drinkers and any underage guests.
2. Promote "just because" rose bouquets
Roses are the top-selling flower in the United States and it's easy to see why. They're beautiful and their fragrance is heavenly. Why should they be relegated to Valentine's Day and anniversaries? Try designing a summer rose bouquet and sharing it on your social media pages, through an email campaign and on a sandwich board on the sidewalk in front of your store. Curious how many people are seeing your marketing? Try adding a promo code to your social media posts and emails that customers can mention when they visit your shop or call to place their orders.
3. Take advantage of seasonal prices
Rose prices dip in the summer when blooms are plentiful and demand is lower. Those savings can help you realize a nice profit on summer designs. If you're an FTD Member Florist, you can also stack your savings by purchasing through the FTD Flower Exchange. The FTD Rewards points you're automatically earning on products and services can be redeemed to save you up to 20 percent on your fresh flower order.
4. Get on Instagram
Beautiful photography is the name of the game on Instagram. Drive sales of your rose designs by posting a gorgeous, editorial-quality photograph. Be sure to pair it with a caption that tells a story – for example, why roses aren't just for Valentine's Day or how "just because" bouquets will delight the recipient. Be sure to engage with anyone who comments on your picture by "liking" their response by tapping the heart icon or responding directly to what they said.
5. Take your flowers outside
While cut flowers should ideally be stored around 36 to 38 degrees Fahrenheit, you might consider setting up your own little "farmer's market" outside your shop on a not-too-hot day. Encourage passersby to build their own perfect bouquet (featuring roses, of course) and wrap it up for them, complete with a summer-bright ribbon or the perfect rustic touch, such as a piece of burlap.
Do you have any other strategies for taking advantage of abundant summer roses? Tell us in the comment section below!
0