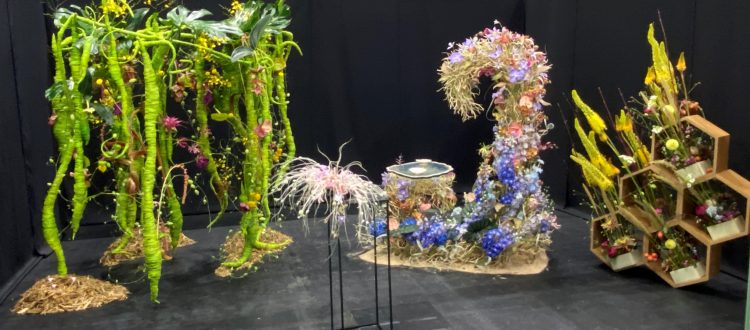 Jennifer Thomasson Shares Her Experience at the 2023 Interflora World Cup
Jennifer Thomasson, who secured her place as the USA's representative in the 2023 Interflora World Cup, showcased her interpretation of "Our Natural World" in Manchester, England on September 7-9. Her performance unfolded after meticulous months of preparation, competing against representatives from 19 other nations. Now that the three days of intense competition are over, we spoke with Jennifer about her experience at the World Cup where she gave us an idea of what it was like to take part in such an exciting, international floral competition against the best designers in the world!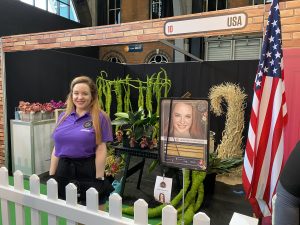 What was your overall experience competing in the World Cup?
It was the most intense design experience that I have had in my 20+ year career in this industry. It was a task unlike anything I have ever done and, honestly, I loved every second. From the initial delivery of the theme, to the description of the tasks and logistics on how it all works, how to get it all there, to pulling in concepts and theorizing how to get it done, it was all so inspiring. I was pushing myself, my creativity, and my boundaries, loving the chance to be vulnerable and unapologetically create my vision and expression of what I wanted to say. Tasked with the surprise items in front of a live audience created that next level of exhilaration that tested my knowledge and skills. It was a joy that I never would have imagined. Making the Semifinals, while feeling the power of myself, and the ability to show up with grace to perform my best, is a gift no one could have ever given to me.
This experience has taught me a lot about myself and my craft. Leading up to the dates, everyone kept asking me, "Who is your biggest competition?" The answer is always the same: me. I am my biggest competition. I was my biggest competition. Not just the two days of the event, but everything leading up to it, and even now afterward. It's always about training myself to plan and do my best, figuring out how to get out of my own way to let the work speak through me, and taking this experience in the most positive ways to fan the flames for a brighter fire to burn inside me.
"I am my biggest competition. I was my biggest competition."
What advice would you share with future World Cup competitors?
Spend time prior to the competition practicing surprise packages. Make them for yourself first: be kind with your flowers, colors, and time. When you are ready, step outside of your box and be unkind to yourself with flowers, colors, and time. What I mean by that is we know what flowers and colors we are always drawn to, as well as the ones we don't gravitate towards. Make sure you familiarize yourself with both categories. Lastly, find some designer friends that you can practice "competing" against. Do some timed events together and see how the energy changes with the individuals, flowers, colors, and time constraints. Throughout all of this, you will discover what you do best and how you can implement that into the time and space of the real-life competition.
What are you doing now that the competition is over?
Right now, I'm conceptualizing more works, using the inspiration I gathered both internally and externally from my experience at the World Cup. I am intensely focused on my Bouquet Workshop Tour that's happening at the beginning of next year. I am making the pieces 100% organic and sustainable, so I can share this vision with all the attendees.
How will this competition impact your career?
I'm not sure how it will impact my career, but it will certainly impact me as an artist. I learned some valuable lessons while I was at the World Cup. I learned some things that worked wonderfully and other areas in which I need to put more focus.
Any final perspectives now that the competition is over?
We all wanted to win; that is why we were there. It's why we all put so much hard work, effort, sleepless nights, money, time, collaborations, vacations, etc. into it. However, I wasn't sad that I didn't win. I was happy throughout the whole process because I told myself I was going to soak up every morsel of the experience and be mentally present while I was there, and I did just that. Every day was a new adventure filled with new people, new inspirations, and new realizations. Making it into the competition over a year ago blew me away. I've been on that ride since then, feeling the adrenaline that comes along with it. Showing up to the competition knowing I was representing my country on a platform to celebrate my craft was exhilarating. Making it to the Semifinals was euphoric. Finishing in 8th place is perfect. The number 8 has followed me my entire life, plus it is the symbol of "infinity," which I know was meant for me at this time. This is an integral step into the international world of floral competition, and I am grateful for the opportunity.
0