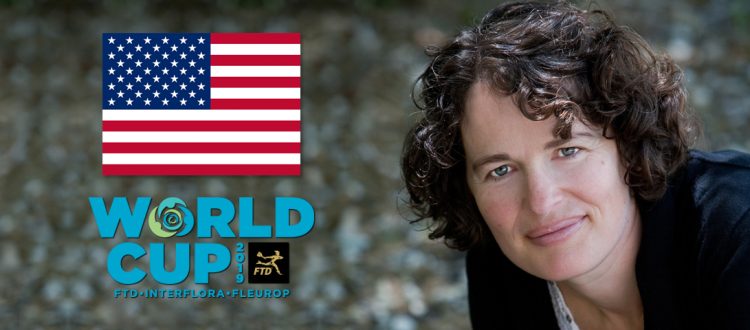 Dreams Do Come True for USA Designer Competing in FTD World Cup
From California dreaming to living the American dream, Katharina Stuart says that representing the United States of America in the 2019 FTD World Cup is, well, a dream come true. In summer 2018, she won the FTD America's Cup in Washington, D.C. There, she competed against nine of the country's top designers, where each completed four design challenges.
For Katharina, the most intimidating part was the pressure of a live contest with highly skilled designers — and hundreds of people watching and taking photos. Fortunately, she was able discover ways to stand out and find her focus—blocking out the distractions.
"It took me the longest time to grasp what had happened — I won and would be competing on a world stage," Katharina says. Originally from Switzerland, Katharina is fulfilling the American dream by representing the U.S.A. and finding success in her field. But for her, there was much more than just winning. "I truly treasure the memories and friendships that were created during the competition," she comments.
"It took me the longest time to grasp what had happened — I won and would be competing on a world stage"
Katharina is doing many things to prepare for the upcoming FTD World Cup in March. She feels like "her head is spinning" with so many thoughts about her designs, techniques that she needs to practice, and elements and principles of design that she will continue to study. However, she looks forward to these creative challenges, enhancing her skills, and meeting and learning from the world's best floral designers. To keep herself grounded, Katharina practices meditation and yoga and tries to spend as much time as possible in nature.
Although the FTD World Cup will be her first international competition, she is not new to floral design contests. Katharina began competing in 2004 and within a year she won the California State Floral Association Top Ten Design Competition. In 2015, she won the San Francisco Cup and in 2018, placed second in the Pacific Northwest Design Competition in Vancouver, British Columbia.
Katharina has been working as a floral designer for more than 30 years, both in Europe and the U.S.A., and is as passionate about flowers as she was as a child. She grew up surrounded by flowers and plants, which instilled an appreciation of nature.
"I was always drawn to plants, flowers and nature. It just felt innate for to me to work in the floral industry. A third generation gardener, Katharina is herself an avid gardener. "I am lucky enough to have plenty of space around my house to have both a flower and vegetable garden, and to pursue this hobby," she says. When not working or gardening, Katharina enjoys hiking in the hills and forests of Northern California.
Her desire to bring the awe-inspiring beauty of the outdoors into the home also inspired her passion for floral design. In 2007, she opened Katharina Stuart Floral Art and Design. Katharina's creative flair and love of natural materials enables her to put together captivating combinations with unexpected color fusions. In addition, Katharina's designs have appeared at various exhibitions, including Bouquets to Art at the De Young Museum in San Francisco.
For her, the greatest satisfaction of working in the floral industry comes from people's reactions. "I truly treasure the fact that we bring joy to others with our flowers. The smile on a recipient's face when you hand them the flowers is priceless, and worth all the hard work that goes into creating an arrangement," Katharina exclaims.
"As an immigrant to this country, it is an American dream come true and I am going to make my country proud!"
She also finds satisfaction in representing the U.S.A. in the upcoming World Cup. "As an immigrant to this country, it is an American dream come true and I am going to make my country proud! I am excited to meet these talented designers from all over the world and create lasting friendships and memories," she says.
Although she is excited to be competing against the best in the world, she sometimes questions if her designs are up to that challenge. Katharina explains that, "It's a bit of a roller coaster of emotions, but I am working hard on keeping all my feelings level and staying grounded." But most of all, she is looking forward to this experience.
"Without the sponsorship of FTD, I wouldn't be able to do this. So thank you so much to everyone at FTD for your sponsorship and helping me to fulfill my dreams."
FTD is sponsoring Katharina for the World Cup by underwriting her expenses. Katharina concludes that, "Without the sponsorship of FTD, I wouldn't be able to do this. So thank you so much to everyone at FTD for your sponsorship and helping me to fulfill my dreams."
0