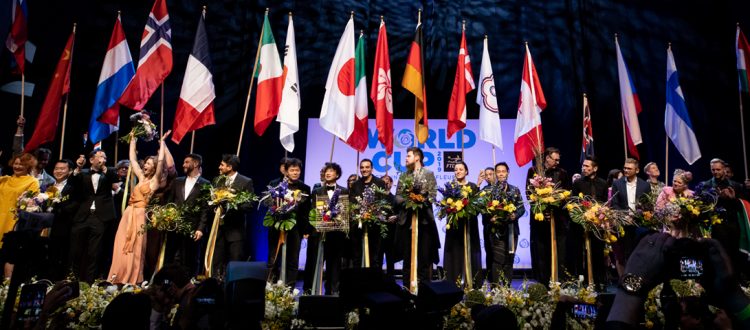 Five FTD World Cup Competitors Share Their Perspective
Once in a Lifetime Experience
All eyes were on the 23 competitors at the recent FTD World Cup 2019 competition held at the Philadelphia Flower Show. As spectators watched these masters at work, words like extraordinary, exceptional, moving and amazing came to mind. Those same descriptors were used by the design competitors themselves to describe their experience at the world's most prestigious floral design competition. Here, five of the competitors from this talented group share some of their inspiration, perspectives and advice.

What was your overall experience of competing in the World Cup?
Bart Hassam, Australia – 2019 FTD World Cup Champion – Being a competitor in the World Cup is a once in a lifetime opportunity and I had a really wonderful time. Leading up to it, several people told me to remember to enjoy it – and not get caught up in it. So, I made a conscious effort to do that and it really helped. 
Paul Jaras, Canada – My experience was very positive. It is a highlight of my career and I am looking forward to what is to come. The competition has opened up a new world in terms of how I approach my work. It has broadened my design world and inspired new directions of creative thinking.
Přemysl Hytych, Czech Republic – Finalist – I've participated in many contests and I'd call this one a long-distance run – one where you learn about your limits. The World Cup taught me to push my limits further. I truly enjoyed the preparation and the work on competition tasks!
Leopoldo Gómez, Mexico – First-ever competitor for Mexico – This was an unforgettable opportunity. I learned many valuable skills and techniques that I will continue to experiment with and incorporate into future compositions and courses for my students. The other competitors are people that I have admired and respected for years, and I was given the rare chance to meet these colleagues and learn from them firsthand. It was also incredibly beautiful to see how different cultures design and create with very different thought processes – while we are all connected by this shared passion.   
Katharina Stuart, United States of America – It was a wonderful experience. Planning the designs, building props, figuring out logistics, ordering flowers and finally seeing it all come together was such an enriching experience. I have learned so much and will treasure the memories for the rest of my life.
What was your favorite part of the competition and week leading up to it?
Bart – One of my favorite parts was getting to spend small moments with the other competitors throughout the week, some who are already friends, but also getting to make new ones. Also, it meant a lot to experience all of this with my longtime assistant Shauna, my partner Jeff and a small group of Australian supporters.
Paul – The best part was meeting my fellow floral artists. It gave me the chance to be a part of the global floral design community in person. I found it exhilarating to be a part of the energy.
Přemysl – I truly enjoyed the preparation and the work on competition tasks!
Leopoldo – I really liked the preparation week before the competition, and the two days of prep on site at the convention center. I had practiced many times in my country, but when I was building my props at the competition, it became very real. I loved the exhilaration in that, and it gave the work excitement and meaning. As with any project, we came across several dilemmas, but somehow overcame them. It was invaluable to experience an overwhelming feeling of pride, as well as the ups and downs. 
Katharina – I think that competition is so enriching. It fuels creativity and feeds the soul. I also really enjoyed meeting all the other competitors. The bond and friendships created are priceless. 
What advice would you share with future World Cup competitors?
Bart – Organization and preparation is essential in a competition in another country and on the scale of a World Cup. But, once you are there you have to be flexible and calm enough to make changes and decisions on the fly when things don't arrive/are broken/change color/the size is not what was expected, etc. And then, you need to be able to forget it all and just trust your skills as a designer.
Paul – Be true to yourself, your creative vision and your design personality. "Do you," as they say. Enjoy as many moments of "the ride" that you can!
Přemysl – I would recommend that they prepare as best as they can and learn to make compromises.
Leopoldo – The best advice that was given to me, and that I would pass along, is practice, practice, practice – and plan for everything. Know your planned designs and materials very well. The time goes by very fast, so it's best to know exactly what you want to do with your design. Remember to stay true to yourself and your design style. This is a very big process and it can be easy to lose sight of things because there is so much anxiety and pressure.
Katharina – I think that it is important to have a great team around you. This is a major production that is impossible to do on your own. Don't underestimate the mental stress either. I was working with a coach and it really helped me stay focused and keep the emotions in check (most of the time…).
Did the competition meet your expectations?
Bart – It did on so many levels. I was looking forward to creating some very sculptural pieces with really interesting plant material, and I was hoping to push myself mentally and physically to achieve it all. Working to keep my emotions stable was one of the biggest challenges and I was supported very well, so I managed to achieve that. I was challenged by the time constraints, and working in a different country can be difficult to get what you need. But, I just tried to stay calm and work through things one by one. The competition itself was tough and there were a lot of great designers there, so I'm pleased to have risen to the challenge.
Paul – I knew it would be a thrill to be there. I expected to be inspired, and I was. I also knew that many of my friends and family in the floral community would be there cheering me on. The love and support that I was given and continue to receive after this extraordinary experience is beyond anything I could have imagined.
Leopoldo – The competition exceeded my expectations in many ways. Meeting people from all over the world who inspire this beloved art form, and then seeing the caliber of skill, technique and talent is an extremely humbling and awesome experience. The best part was the unity and camaraderie that developed the first day we all met, even though we were competing against each other. The March of Nations was also truly moving – hearing people cheering for all countries! There was such an immense sense of love and positivity, and I will never forget it.
What are you doing now, after the competition?
Bart – I returned to Australia after a week-long break in New York. I'm back in the studio doing work and preparing for a few weddings that I have coming up. I have a couple of trips in the next two months that need to be planned, but nothing too difficult.
Paul – I am focusing on my intention to teach and inspire a wider audience. I don't know exactly what's next for me, but I am looking forward seeing how my career will unfold.
Přemysl – I'm getting ready for other floristic presentation events, such as the ones taking place in Vietnam and Russia.
Leopoldo – After the competition, I went right back to my normal schedule and true passion, which is teaching everyday. I co-own two schools in Mexico City, and we have plans to open a third location this year. I feel very fortunate that the interest in floral design is gaining momentum in my city, and I hope that will continue. I also teach internationally, so there is a lot of travel on my agenda. I hope that my floral career will always bring me to new places.
Katharina – I'm recovering! I am taking a little break to be able to recover and process everything. Then, it will be back to business as usual with the wedding season about to start.
How will this competition impact your career?
Bart – I hope it allows me to travel and teach more in other countries, where I'll get to do more of the work I enjoy. I've already had a few inquiries and along with my studio in Brisbane, I'm basically booked for the rest of the year.
Přemysl – It's too soon to say yet. I'll see what the future brings.
Leopoldo – At this point, I only know that it was definitely a highlight for me, and an experience that I will never forget. I met some extraordinary people on this journey and saw many incredible things. It has intensified my passion for floral art, design and teaching. I have learned so much and seen the level of work I want to strive for. Above all else, I am inspired. I am filled with enthusiasm, ambition and determination to create, build, make and just do more!
Katharina – I'm not sure about that yet, time will tell. I am hoping that with the connections I was able to make, jobs like teaching assignments, invitations to participate in larger exhibits and jobs will pop up in the near future. The exposure you get on a world stage is immense.
As a finalist, what was your experience with that part of the competition?
Bart – The surprise items are always more of a challenge, as there's less time to think and prepare. But, as long as you stay calm and have a plan, they usually turn out ok. The last surprise item which was on stage was actually the scariest as the timeframe was so short and we had no prep time. I was shaky at the start, but 10 minutes in I was settled and just put my head down and tried to get as much done as possible.
Přemysl – I would call it a friendly contest. It was very nice, and there was a lot of adrenaline.
Any final perspectives now that the competition is over?
Bart – I'm very grateful for the opportunity to represent floral design worldwide. It's an honor and a privilege, and I look forward to sharing my design style with many other people from around the world.
Paul – I encourage designers at all levels to compete whenever they have the opportunity. For me, the experience of preparing for the FTD World Cup has pushed creative boundaries. I have also learned new skills that have opened up a world of creative possibilities and the ability to realize the results in new ways. It has offered a chance to grow exponentially as an artist. The experience of competing itself has taught me a lot about myself. I have been inspired to dream bigger than ever before! Thank you to FTD/Interflora, the many sponsors, and the countless people who worked tirelessly behind the scenes to make it all happen. Our floral design world has become so much richer because of it!
Leopoldo – As the first person from Mexico competing in the World Cup, it was such a huge honor and privilege to be among the world's leading floral designers, and to be able to compete and represent my country in an art form that I love. I really wanted to show the rich culture and passion for the arts that Latin America possesses. I would love to see this beloved industry grow in my country, so I hope to inspire my students and other aspiring florists in Mexico to strive for high levels of floristry.
To learn more about FTD World Cup and watch the competition from start to finish, watch the highlight video at ftdworldcup2019.com/videos.
Photo Credits: FTD © Michelle Smith / @ginchigoo
0