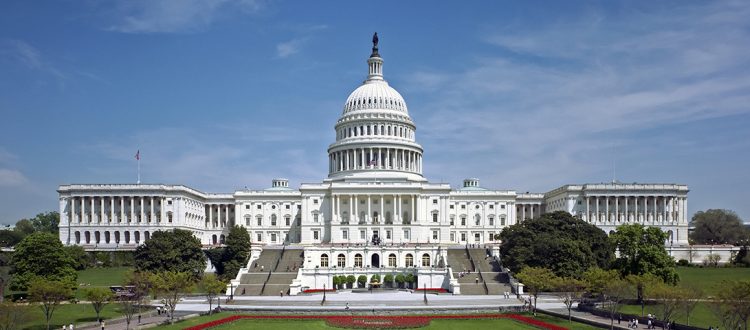 FTD Participates in Congressional Action Days on Capitol Hill
Each year, the Society of American Florists (SAF) heads to Washington D.C. for Congressional Action Days (CAD). This year, floral representatives are presenting our industry's most critical issues to approximately 26 members of Congress, congressional aides, as well as several senators on March 12. SAF's 7,000 association members represent all segments of floristry: retailers, growers, wholesalers, importers, manufacturers, suppliers, educators, students and allied organizations. FTD is a proud supporter of CAD and sends representation to join the lobbying event on Capitol Hill.
Approximately 100 SAF members from 25 states and D.C. are converging on "The Hill" this week as a unified front and are lobbying on behalf of the industry. Ed Cronin, FTD Vice President of National Accounts, is one of those attending and speaking on issues that directly impact florists. "Congressional Action Days is a great way for FTD to show support of the industry by advocating for our florist partners on federal issues that can impact their business on a local level, said Cronin."
The SAF members work together in state or regional delegations to highlight key issues, and how various laws and regulations impact floral businesses. This year, they are specifically addressing:
Minimum Wage: SAF opposes doubling of the Federal minimum wage to $15 with automatic increases. While floral industry businesses often pay more than the minimum wage to attract and retain valuable employees, doubling the current wage would not be sustainable and could lead to reduced hours and/or layoffs. With narrow profit margins, most floral businesses cannot absorb increased labor costs. Raising wages also drives up other related costs such as taxes, insurance and benefits.
Immigration Reform: SAF opposes stand-alone, mandatory E-Verify legislation, which would exacerbate an already critical shortage of workers. SAF is suggesting that lawmakers provide realistic ways to establish a legally authorized workforce and guest worker program.
The Floriculture and Nursery Research Initiative (FNRI): SAF wants to ensure that this initiative continues to receive support. Establishing longer-lasting cut flowers is among the many research successes to date.
The Floriculture Crops Summary: They are seeking continued funding for publishing this annual report by the National Agricultural Statistics Service. It provides vital data on annual bedding and garden plants, potted plants, foliage plants, cut flowers and greens.
 While SAF members go into CAD with many requests for their legislators, they also realize that changing policies and laws often takes time. Last year, SAF members successfully increased Floriculture and Nursery Research Initiative funding by $1 million, reinstated the Floriculture Crops 2018 Summary report and included language in the Farm Bill to protect floriculture innovators. In addition, attending CAD helps to increase awareness of the floral industry and build support for our most critical issues.
For more information about SAF's Congressional Action Days and how you can make a difference in the floral industry, visit www.safnow.org.
0