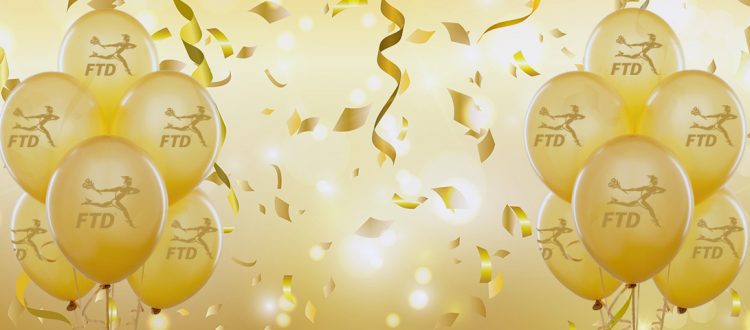 Dozens of floral shops across the U.S. and Canada have partnered with FTD for 50, 75 and even 100 years, but who's counting? Well, we are! The flower shops that reached these significant milestones in 2019, along with those celebrating 25 and 35 years of membership, were recognized with a special recognition plaque to proudly display in their shop. These anniversary years acknowledge each shop's consistent membership in the FTD florist network.
We don't take these commitments lightly. At FTD, we are grateful for these longstanding partnerships and celebrate each business' success. After all, solid relationships that last are based on support and working together.
There are many other things to celebrate at FTD, too. We are working to reclaim our heritage as the world's floral leader and innovator, as well as build mutually beneficial florist partnerships and a strong FTD brand. This includes investing in florist technologies to help us achieve our vision. Thank you for your continued partnership and support. Here's to appreciating the past and to continued prosperity!
We are proud to recognize these magnificent MAJOR milestones!
Anderson's Greenhouse
Franklin, PA
Anny Fleuriste, Inc.
Drummondville, PQ Canada
Armstrong Flowers, Inc.
Fort Wayne, IN
Buer's Floral & Vintage
Anacortes, WA
Draper Flowers and Gifts
Bassett, VA
Fabbrini Flower & Gift Shop
Hoffman Estates, IL
Fleuriste Juliette, Inc.
Sainte-Thérèse, PQ Canada
Flowerland
Midland, TX
Flowers by Dave
Benton, IL
Ivy Leaf Florist
Dry Ridge, KY
Karen's Flower Shop
Milton, ON Canada
Log Cabin Florist
Bakersfield, CA
Midtown Florist, LLC
Brooklyn, NY
Neaman Floral
Rising Sun, IN
Pierson's Flower Shop & Greenhouse, Inc.
Cherry Hill, NJ
Raimondi's Florist
Pikesville, MD
Standford Flowers & Greenhouse, Inc.
Cherry Hill, NJ
Stobbarts Nurseries, Inc.
Franklin, MA
Anderson the Florist
Keene, NH
Chocolate Tulip Flowers & Gifts
Borger, TX
Cleburne Floral Co.
Cleburne, TX
Dalton's Flowers, Inc.
Overland Park, KS
Hallstrom Florist & Greenhouse
Red Wing, MN
Kellen's Florist, Inc.
Hobart, IN
Roseland Floral Co., Inc.
Charlotte, NC
Woodring's Floral Garden
State College, PA
Cossairt Florist, LLC
Shelbyville, IN
DeMuth Florist, Inc.
Connellsville, PA
Washinton Florist, Inc.
Newark, NJ
Weber's Florist & Gifts
Ironton, OH
Welke's House of Roses & Flowers
Milwaukee, WI
0