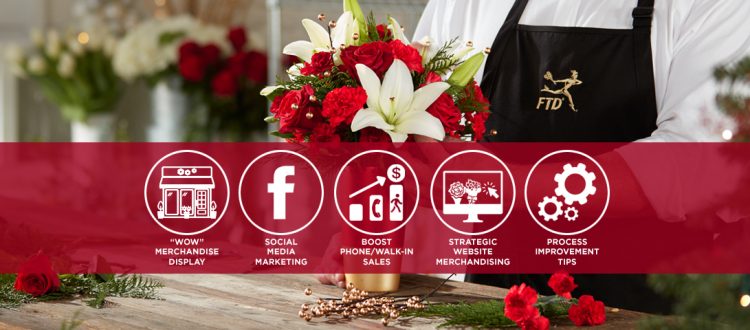 Five Holiday Must-Dos to Increase Sales
On November 7, FTD hosted "Five Holiday Must-Dos to Increase Sales."  This free webinar was presented by four members of FTD's team and provided expert recommendations on holiday merchandising, website organization, upselling, social media and quality. Weren't able to join us for the webinar? We've captured the highlights for you in this blog post. You can also view the recorded webinar in its entirety at YouTube.com/FTDMercuryNetwork.
1
Must-do: Woo them into your flower shop
Presented by FTD Education Consultant J. Keith White AIFD
Keep the two-second rule in mind when you plan your shop's exterior. According to this rule, you only have two seconds to grab a passerby's attention. That means your windows need to be impactful.
Don't just put something in the window, create something that will gain someone's attention.
Keith also recommended thinking "outside the tree box" during the holidays. While Christmas trees are great, you can also create an eye-popping display using vertical willow branches or a ladder, or by hanging merchandise from the ceiling using monofilament. No matter what you choose, all of the merchandise in your window needs to be priced and fully shoppable – you're in the business to sell, after all.
2
Must-do: Entice them with your top sellers
Presented by Mary Leahy, senior manager of FTD Online Services
Get your website as holiday-ready as your store! As soon as Thanksgiving wraps up, start featuring holiday bouquets on your site. Your best sellers and featured bouquets should be right at the top of your product pages. People tend to spend a little more during the holidays, so don't be afraid to showcase items with higher retail prices to drive higher average order value.
Communication is key during the holidays! Make sure your holiday delivery dates are correct on your site, as well as your store hours. If you'll be closing early for any celebrations, make sure that is posted as well.
When you're tweaking your site, consciously try to create a look that is similar to your store to help reinforce your brand identity. Additionally:
Make sure your opening price points include both high and low options.
Offer novelty items and bouquets in multiple heights for every home décor.
As you sell out of containers or flowers, remove these items from your site.
Keep track of what sold well so you know to offer it again.
3
Must-do: Jingle jangle jingle all the way
Presented by FTD Education Consultant J. Keith White AIFD
What's that jingle-jangle sound? It's your cash register! Keith offered a few tips for driving up sales this holiday season:
Make sure you have items at every price point to appeal to as many customers as possible.
Offer a variety of keepsake items and add-on gifts to increase your sales.
Beyond merchandising, make sure that your shop is providing an exceptional customer service experience. Your staff should look professional and have photos to show your customers of available designs. They should also emphasize your ability to provide a delivery confirmation so that the customer doesn't have worry about whether their gift has arrived.
4
Must-do: Get social
Presented by Briana Jones, manager of FTD Digital Marketing
Be sure to spruce up your social media for the holidays! Briana recommended the following strategies:
Develop a social media calendar. Cross social media off your to-do list by building a calendar ahead of time and scheduling the posts in advance. The calendar also serves as a record of all your posts for future reference.
Engage your audience. Online contests/campaigns ramp up your page's audience. Create a contest asking your customers to share your page, or raffle off a free product among people who make a purchase during a given time period.
Profile maintenance. Give your page a makeover for the holidays. Update your profile picture and cover photo, and give all of your shop information a once-over to ensure it is accurate.
Email marketing. Create and send holiday-specific email marketing campaigns. Try including a coupon to boost your web orders!
Gather images. Snap photos as you decorate your store and build holiday designs. This helps you create a library of images you can easily pull from and share on social media.
5
Must-do: Boost your quality
Presented by Keith Harbison AIFD, senior manager of quality assurance
Help create the most magical season of all for your customers and keep your shop in ship-shape condition by taking a close look at your quality.
Your delivery footprint. Does it make sense to shrink your delivery footprint as Christmas approaches? If you're not sure, FTD's Quality team is happy to help you evaluate your delivery area.
Keith pointed out that shopping based on price doesn't always lead to a profit if the product you receive is subpar. Don't take chances – use tried and true varieties from trusted sources during the holidays.
Help your customers enjoy their flowers as long as possible by making sure your water and cooler are the proper temperature, that flowers are being fed properly and that you're properly sanitizing tools and buckets.
The design process. Run down your list of upcoming orders and pre-stage and pre-green containers when possible.
Delivery staging. Stage deliveries in an area that is set to a flower-safe temperature and is free from drafts. Be sure to take precautions not to damage any flowers when wrapping them.
Make sure your drivers are dressed professionally and are good representatives of your business. Before they leave the shop, make sure each driver has a delivery log, door tags and a mobile phone (preferably one equipped with the FTD Mercury Mobile app) so that they're prepared for all situations. And don't forget your delivery confirmations!
Last but not least, be sure to visit www.FTDi.com/Christmas for exclusive holiday preparedness materials!
0