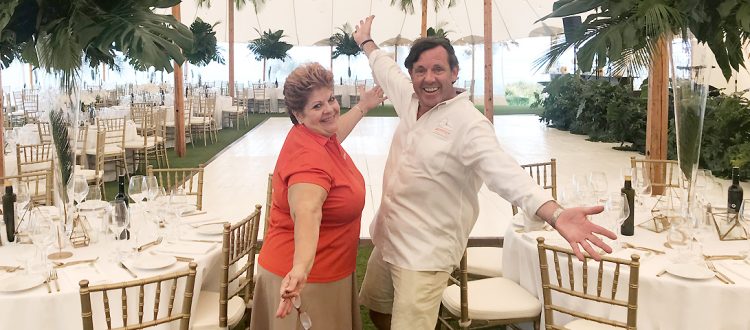 Intern with Ian: A Whirlwind Weekend with the Floral Event Guru
In August, FTD conducted its first-ever Intern with Ian Contest. The prize? A once-in-a-lifetime opportunity to shadow FTD Education Consultant Ian Prosser AIFD as he brought his vision for a luxury wedding to life. FTD encouraged any Member Florist looking to grow their event business to enter the contest.
Ian is one of the biggest names in the floral industry. His design company, Ian Prosser Productions, has assembled up a star-studded client roster that includes Tom Cruise, Katie Holmes, Queen Elizabeth and Presidents Bill Clinton and George W. Bush.
When reviewing the contest entries, Nancy Gilbert and her shop, Country Petals in Peconic, New York, stood out to Ian. "She's in a fantastic area with lots of wineries," he noted. "She really has the opportunity to land more wedding business." Nancy excitedly accepted the prize and got ready to be part of the "creative hurricane" that is Ian Prosser Productions.
On October 19 (her birthday!), Nancy flew to Tampa, Florida, to join Ian's team and assist in three weddings and an anniversary party. She hit the ground running. Shortly after arriving at Ian's studio, she was busily designing wreaths of tropical foliage, wrapping a chuppah in curly willow and processing flowers. That night, she enjoyed dinner with Ian before getting a good night's sleep before a very busy day.
It was on a scale beyond imagination!
The next day, at a beach club wedding, she placed the final touches on towering foliage table arrangements and played a key role in creating a tropical display of monstera, elephant ears, ti and palm leaves, hanging amaranthus and glowing gold containers.
Nancy also picked up tips and tricks for everyday use at Country Petals, including stacking her floral buckets in a pyramid for optimal drying and delivering event bouquets wrapped in waxed tissue paper and nestled in plastic cups within a box. This strategy eliminates the need to retrieve glass vases and allows for the bouquets to be assembled farther in advance since the water in the cups keeps them hydrated. Nancy was also intrigued by the way Ian built a bridal bouquet by flipping a bouquet holder upside down to redistribute the heaviness in the front.
Additionally, Ian gave Nancy tips on attracting more local weddings and growing her business. "We showed her how to upsell and create bigger events for herself," Ian said.
Nancy praised the support network around Ian, as well as Ian himself. "His team is lovely, and so is he. He's so lucky to have such good people surrounding him," she said. She said she could see herself in "every single person" on the team because she's accustomed to wearing all of the hats in her small shop.
Speaking to FTD after the busy weekend, Ian said, "I just hope it was as positive for her as it was for me and that she can take what she learned this weekend and continue increasing her event business sales."
0