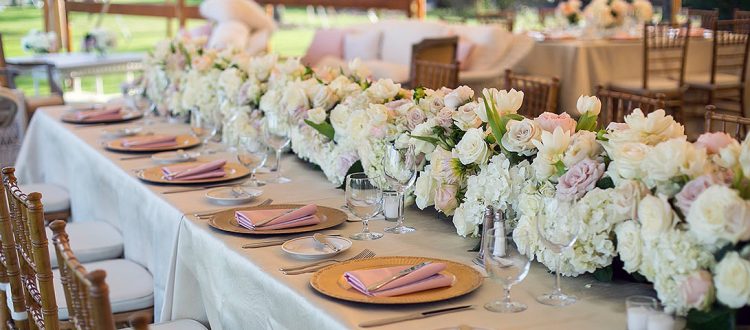 Four Ways to Boost Your Event Business (and a Contest)
From the obvious (weddings) to the not-quite-so-obvious (gender reveal parties, anyone?) flowers make every event more beautiful. Event business can also be highly profitable too. According to The Knot 2016 Real Wedding Study, the average spent on wedding flowers in 2016 was $2,534.
Here are four of our favorite ideas for building your event business.
1
Think outside of the box.
When you think of event business, what pops into your mind? Weddings, of course. Anniversary parties. Major birthdays. Try branching out to events that have become more popular in the age of Pinterest and Instagram, such as gender reveal parties or even divorce parties. Whip up a sample design that would be perfect for a unique event and share it out on your social media pages. If you demonstrate that you're a creative thinker and up for new challenges, customers will be more likely to approach you for their unique needs.
2
Promote yourself to everyone.
Word of mouth is a great way to promote your business, but so is self-promotion. Share examples of your event work on your website, Facebook, Instagram and any other social media accounts you maintain. You'll also want to promote yourself to wedding planners, hotels and event spaces, but don't do the expected and just drop off a business card. Instead, consider creating a custom piece that includes photographs of your work as well as testimonials from event clients who were delighted with your service.
3
Get a bigger piece of the pie.
Flowers aren't the only item needed for a successful event. Try capturing a bigger piece of the pie with add-on rental items such as linens, chairs, plants, uplighting, etc. You'll also make yourself more attractive to the people planning the event because they can cross more than one item off their to-do list.
4
Go to bridal shows.
When you go to a bridal show, you've already cleared a few hurdles – you've connected with someone who needs your services, and you can meet with her face to face. The keys to landing business at a bridal show are to be prepared, interact with attendees and follow up quickly with any leads you receive. Make sure your booth is warm and welcoming, and bring beautiful examples of your centerpieces and bouquets. To collect leads, try offering a centerpiece giveaway and ask each bride-to-be to write down her name, email address, phone number, wedding date and location on her entry form.
Ready to jumpstart your event business? Enter the FTD Intern with Ian Contest! One lucky FTD Florist will spend a weekend working side by side with FTD Education Consultant Ian Prosser AIFD, one of the biggest names in the industry, as he brings his vision for a high-profile wedding to life. FTD will pay for your travel. Enter today!
0