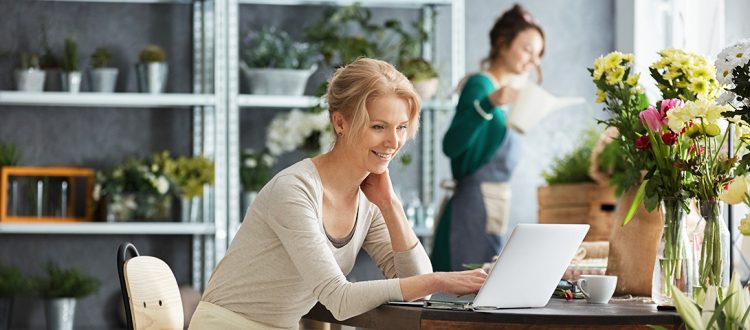 5 Ways to Generate More Orders for Your Website
As a florist, your joy and talent resides in the creation of beautifully designed flower arrangements you get to share with your customers. In order to successfully continue sharing those creations, your website needs to make a strong impression that influences potential customers to keep returning to your shop for all of their floral needs. Marketing Expert Carly Stroud shares these five important tips to use your website to its fullest potential so you can create more orders for your shop.
1. Think Like a Client
You probably do a lot of online shopping yourself, so you know how important it is for  the shopping experience to be convenient and easy. Customers are more likely to shop and complete a purchase from a website that is visually appealing and easy to navigate. Feature your shop's best sellers on the homepage and display visible links to  "Occasions" and other popular categories that make searching for products easy on a menu bar.
2. Keep it Simple
Not only should your website be easy to navigate, the checkout process should also be seamless. When a customer clicks on any item, be sure to have prices and size options clearly visible, along with a distinctive "Add to Cart" or "Buy Now" buttons so items are clearly listed in their cart. Making customers flip back and forth between screens or unclear prices, options, or delivery charges can confuse customers and deter them from completing a sale.
3. Keep Your Website Updated
Shoppers are drawn to new merchandise featured in your shop's window displays, so do the same by keeping your website fresh and exciting! Update promotions and specials on your homepage while featuring upcoming holiday designs or the latest occasions. Up-to-date styles will entice customers to explore what's new, whereas a homepage that still features expired specials or outdated holiday ads may deter potential buyers. Consider adding pop ups to grab customers' attention about featured seasonal specials and holiday ordering deadlines they won't want to miss.
It's also critical to have up-to-date address, store hours, and contact information on your website and your Google Business Profile. This not only ensures customers can contact your business, but it also gives you more credibility on Google. Linking your social media accounts to your webpage strengthens your web presence and authority so people can find you easier. The more business information and backlinks to social media your website has, the more searchable your business page will be.
4. Make Sure Your Website is Mobile Friendly
Let's face it: we all spend a fair amount of time on our phones, scrolling social media and perusing online shopping. That's why it's so important your website is mobile friendly so customers can easily read and navigate your site from their mobile device. In fact, 47% of customers use their phone to search online shopping sites and place orders. Take the time to use your smartphone to search your own website to see how it looks to potential customers. Consider how font size and scrolling space will appear on a mobile device vs. a computer screen to make mobile purchasing just as simple for customers.
5. Make the Ordering Process Clear
Whether your shop offers online ordering or only does phone-in orders, be sure to make that clear to customers on your website so they know how to place an order. Seventy-eight percent of online searches can still lead to an offline purchase. A good way to encourage customers to place an order is to have a prominent "Click to Call" button that either connects a phone call right to your store or clearly provides your shop's phone number. Adding a Google Maps link with your shop's location and address on your website not only makes it easier for customers to come check out your merchandise in person, but it gives your shop more credibility on the search engine.
Your website is your shop's digital calling card to entice customers to choose you for all of their floral needs. Keep your website simple, up to date, and mobile friendly so you can continue to share your beautiful floral creations with customers for years to come!
Learn more about FTD's new ecommerce platform Mercury Online which can give you the power you need to grow your online business.
Watch the full webinar Five Ways to Generate More Orders for Your Website on-demand now!
0