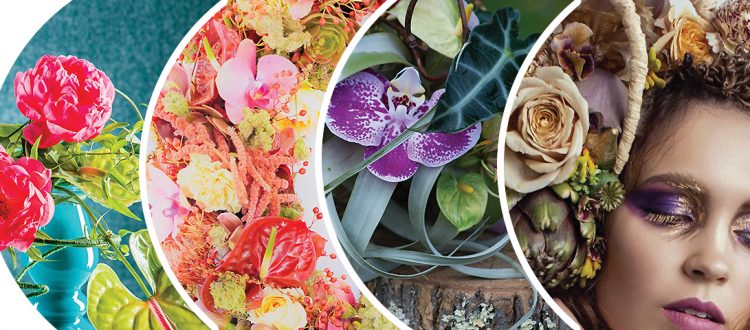 Turning Trends into Dollars
FTD University kicked off the New Year hosting a webinar called "Turning Trends into Dollars" presented by FTD Education Consultant J. Keith White AIFD, the Creative Director of "The American Floral Trends Forecast 2020-2021." This comprehensive report used throughout the floral industry was published in the January 2020 edition of Florists' Review. [View Report]
Read more to learn how Keith developed each of the four trends based on research and how you can incorporate the trends into both shop displays and design work. If you'd like to view the webinar in its entirety, watch here.
Forecast Approach
To identify the four trends featured in the forecast, the team of eleven trend consultants analyzed the creative forces shaping and intersecting emerging trends across key verticals of fashion, interior design, chromatics, pop culture, world events, social media, music, technology, fine arts, entertainment, sports and travel. These factors influence consumer style preferences and buying behaviors.
Nouveau Thinking – Metropolitan is strongly inspired by the Art Nouveau decorative style (1890-1910). Keith told us that history does repeat itself, and so do colors. This modern-day aesthetic reimagines and energizes a new decade of floral design, and signals expressions of vibrant and upbeat city life.
Colors: Four blues are the dominant colors – Blue Violet, Blue Marlin, Pacific Blue and Robin's Egg. The accent colors are Sprout and Coral Bright, along with one metallic tone of Antique Gold. Any combination of colors will work.
Influences: Dramatic curved lines, asymmetrical forms, intense colors, inspiration from natural elements, sumptuous textures and intricate details
Flowers: Peonies, spray roses, ranunculus, Israeli ruscus, iris, delphinium, scabiosa, tulips, OT lilies, sweet peas, viburnum, weeping podocarpus, podocarpus nagi, plumosa fern
Applications: Enhancements of products available in the floral marketplace. Highlighting the Pantone color of the year, Classic Blue. Uses can be as simple as flowers in a vase or as intricate as an art piece.
Curating Legacies – Promenade's old meaning is a slow walk; to be seen and noticed. A leisure stroll from the past into the present sparks a revival of floral design sense and sensibilities with stirring new applications previously associated with the late 1800s and early 1900s.
Colors: A story of light pastels, the colors are Blush, Osiana Peach, Peachy, Almond, Beach, Champagne Gold and the new color Honeycomb. These colors relate back to the previous consumer likes and purchases.
Influences: Soft color palettes reminiscent of Great Britain's Edwardian period (1901-1910) and graceful bolder design elements from France's Beaux-Arts architecture are reinterpreted for today's modern era.
Flowers: David Austin wedding roses 'Patience' and 'Juliet,' Wabara garden roses 'Senlitsu' and 'Miyabi,' Princess Japanese garden roses 'Princess Maya' and 'Koko Loco,' floribunda roses, peonies, eucalyptus, bottlebrush, 'Honey Dijon' hybrid tea/grandiflora roses, foxgloves, OT lilies, rose lilies, lisianthus, grevillea, cotinus, basil
Applications: This trend is the number one wedding combination. Think couture design as well. Keith expressed that it is all about the details!
Creative Mining – Exploration encourages us to experiment and chart new approaches to color theory. It's an adventure into the eclectic and fast-moving world powered by innovation and visual design trailblazers. This trend embraces the Star Trek quote shared by Keith: "To explore…to boldly go where no one has gone before."
Colors: It's a bold color palette with Yellow Yellow, Tangerine, Carnation Red, Fuchsia, Purple and Bright Blue. Ice Blue is the twist of color within the palette which will make the bright colors pop. Texture and intensity are key to creating combinations.
Influences: Avante-garde fashion, extreme games and pop culture. Think global impact – the 2020 Olympic Games in Tokyo.
Flowers: Zinnia, Cushion Gerbera, Tulips, Lisianthus, Craspedia, Gomphrena, Aspidistra, Dahlia, Gerbera, Anemone, Leucospermum, Aralia, Equisetum, Monstera, Sword fern
Applications: It's a global experimentation of artistic expression. Think outside the box…or the bowl. "The sky's the limit!" said Keith.
Fields to Florists – Terra means from the earth. Terratory embodies all things earthly and organic, culminating in a bucolic or rural aesthetic that turns the page on a new chapter of design influenced by the American Grown and locally grown flower movements.
Colors: The earthy color palette exudes natural colorations with Light Ochre, Red Clay, Maroon, Heather-ish, Mist and Herbal, while Lake reflects the 2020 Pantone color of the year – Classic Blue.
Influences: Emulates the plethora of designs already found in nature. Notice the important connections to Mother Nature and mankind. Fragrance and texture are important.
Flowers: Dahlia, OT lilies, Antique Zinnia, Tree fern, Olive, Leucadendron, Peonies, Kale, Magnolia, Kalanchoe, Banksia, Cottage yarrow, Matricaria, Eucalyptus, Fruit branches
Applications: Use this trend for weddings and home décor to promote an organic and grounded feeling.
Putting the trends to work
Keith suggested you review the trends and then determine your direction. Do you focus on incorporating just one trend or a combination of all of them? Next, he recommended you concentrate on the following areas of our business:
Market share – decide who you are as a retailer and your customer base, and use the trends to gain more market share
Visual merchandising – plan out trend merchandise areas in your store to increase spring and Mother's Day sales
Online = In Store – use your website and social media platforms to showcase your design and trend capabilities to customers
About Us – update this web page to show examples of current design styles and trend color palettes
This was the first of FTD University's robust 2020 calendar of webinars. To view future webinar topics and register, learn more here.
0