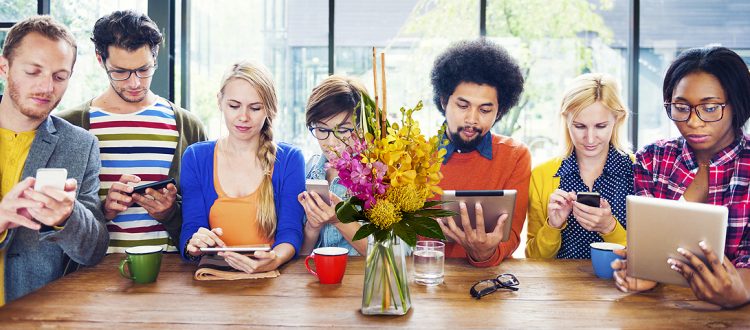 If you aren't considering the millennial market when planning your advertising strategies, you're missing key business. According to a recent report, millennial consumers have a collective annual buying power of $200 billion – and they're not spending their money like the generations before them.
The report, "Marketing Tactics to Increase Millennial Floral Purchases," was released by the American Floral Endowment and Floral Marketing Research Fund. It provides valuable insight into attracting this demographic to your shop as well as information on their attitudes, preferences and barriers to purchasing flowers. The report's authors considered millennials to be anyone born between 1977 and 1994.
We've listed the report's key findings below, along with a quick tip on how to address each of them at your business. To read the study in its entirety, click here.
| Key Finding | Tip |
| --- | --- |
| Millennials don't always think about buying flowers. They need reminders and more reasons to buy or send floral products. | When designing your ads, promote the idea that flowers are a great gift for all occasions. |
| Millennials agree that flowers have many benefits, but they don't automatically associate flowers with meaningful benefits. | Take care to emphasize the environmental and health benefits of flowers (for example, one study found that patients in hospital rooms with flowers required less pain medication than those in rooms with no plants). |
| Millennials are more experience-oriented than older consumers. | Consider offering in-shop design events (such as a "wine and design" night), entertainment or other opportunities. |
| Millennials perceive flowers as traditional and not trendy. | Partner with other business, such as a popular local boutique, to boost flowers' perception of trendiness. |
| Millennials value customization and personalization. | Provide customized delivery options, designs and discounts. |
| Electronic word of mouth is important to millennials when they are making purchasing decisions. | Post online content that encourages conversation, such as the meanings of different types of flowers, videos, sale notifications and more. Encourage your followers to comment on your posts and tag their friends. |
| Facebook is millennial consumers' most frequently used social media platform, followed by YouTube and Instagram. | If you're not already on Facebook, set up a page for your business right away. Keep your content interesting and relevant to your shop. |
| Perceived high price is the major floral purchase barrier for millennial consumers. | Help fight against the "too expensive" stigma by offering special incentives, such as a gift with purchase or in-store coupon. |
| Convenience is one of the primary purchasing barriers at florists. | Ask yourself what you can do to make the ordering and pickup process easier for customers and ultimately bring them into your shop. For example, you might offer the ability to place orders online and pick them up in-store at the customer's convenience. |
| Short longevity is a major floral purchase barrier to millennials. | Emphasize how proper care and feeding can greatly extend flower life. Be sure all of your customers receive flower food and instructions on how to use it. |
| Millennials value sustainable practices, including good work ethics, fair treatment of workers and reduced chemical usage. | Seek out sustainable products and promote their status to your customers. Share details on how the grower/supplier strives to maintain sustainability. |
| Millennials did not frequently notice floral advertisements. TV commercials and social media advertisements are the most influential advertisement formats for millennials. | Keep this in mind as you develop your yearly advertising plan. Social media is a far-reaching and inexpensive way to reach a wide audience. |
| Millennials expressed interest in loyalty programs aligned with their needs. | If you don't have a loyalty program already, consider creating one. The incentives should be attractive (discounts, birthday coupons, etc.) and not expire. |
| The use of subscription boxes is rising in popularity among millennial consumers. Approximately 44 percent of millennial consumers are interested in a floral subscription service. | Consider offering a subscription service that is affordable, flexible and easy to cancel if the customer so desires. |
| Millennials use online information when selecting products/stores, which makes an online presence essential. | Take a close look at your online presence and do what you can to improve it, such as seeking to resolve any negative reviews when possible. Ensure that all of the information posted on your website, including prices, is up to date. Don't have a website? Contact the FTD Florists Online team. |
| Millennials use their mobile phones as quick, easy information sources. | Check to make sure that your website is mobile-friendly and that the ordering process can easily be completed on a cell phone. |
| Millennials often use mobile apps that have relevant content and features. | Take your website and/or app beyond sales by providing other valuable features, such as real-time delivery confirmations (check out the Mercury Mobile app), downloadable coupons, flower information, etc. |
2