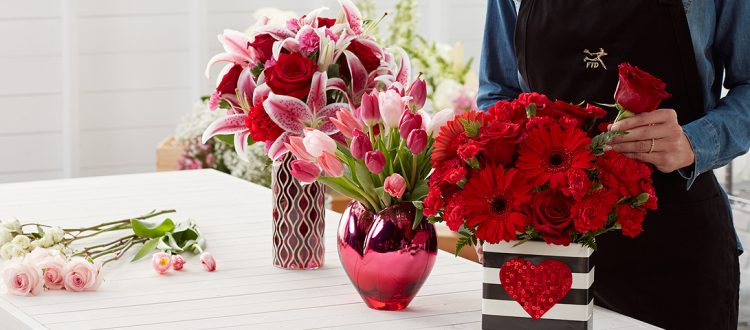 Deliver a High-Quality
Valentine's Day
With less than a week to go until Valentine's Day, it's all hands on deck! We quizzed our Florist Quality team on their top recommendations for keeping quality high when you're up to your eyeballs in orders. Read on for their recommendations, and be sure to share them with your team.
Care and handling
Keep flowers properly hydrated (including floral preservative) to create a better customer experience upon receipt and provide for the proper fullness in each design.
To prevent ethylene buildup, remove any dead or dying petals and leaves and do not submerge foliage below the water line.
Properly soak your floral foam. As a reminder, when soaking your foam, you should gently place it in a large enough water reservoir to allow room for the foam to fill with water at its own pace. The foam should never be forced underwater. This will cause air pockets to become trapped in the foam.
Determine packaging per item prior to Valentine's Day to ensure safe delivery.
Check water daily on all of your premade arrangements prior to delivery.
When a SKU is offered in Standard, Deluxe, Premium and Exquisite sizes, concentrate on one recipe at a time to help ensure proper stem counts in each design.
Customer experience
Emphasize the importance of sending a delivery confirmation. Today's consumers expect real-time notification when an order has been delivered. If your shop utilizes the Mercury Point of Sale system but you haven't yet downloaded the Mercury Mobile app, click here to do so today.
Have a plan and assign a contact person to handle customer service issues.
Immediately communicate any unsuccessful delivery attempts so that the sender is aware of the situation.
Prioritize business and timed deliveries.
Design
Set up an assembly line to put together the top-selling arrangements the day or two before your busiest delivery day.
Save time by making arrangements in FTD's Valentine's Day codified containers to offer for sale to walk-ins.
Keep scale and dimensions in mind when building each design. This is key to your customers' perception and satisfaction.
Technology
Take a moment to review your internal processes for accepting/rejecting an order and sending a delivery confirmation with your staff. Information can be found at FTDi.com/Quality.
Make sure your employees know how to suspend the FTD Mercury system at FTDi.com/MercuryTechnology/Suspend to stop receiving orders that you are unable to fill.
Give your computer a "tune-up" to ensure it is running accurately to minimize disruptions; make sure your ink cartridges are full and your invoice and receipt papers are in stock and easily accessible.
For more Valentine's Day preparedness tips and guidance, please visit FTDi.com/ValentinesDay.
2