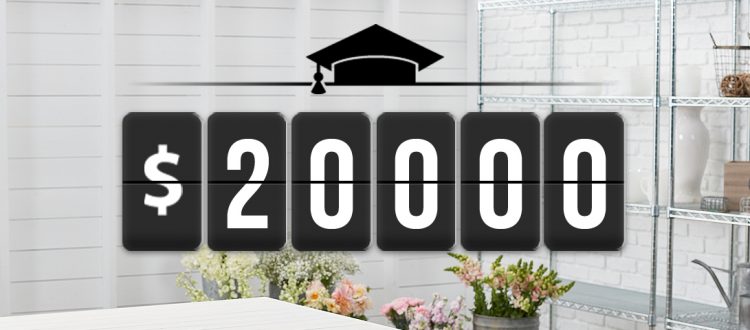 FTD University Scholarships: Learn Something New in 2017
Your odds of earning an FTD University scholarship are now twice as good! Based on overwhelmingly positive feedback, FTD University has doubled its 2017 scholarships to $20,000. Twenty lucky florists or their team members will each receive $1,000 scholarships to industry-leading business and design continuing education programs. The scholarships can be used toward event registration and travel expenses.
What inspired the increase in scholarship opportunities? According to Tom Moeller, executive vice president of the FTD Florist Division, "We regularly connect with our florist members to learn what we can do better and more of. Many crave cost-effective ways to learn and grow.  We receive a lot of positive feedback about our educational programs, so doubling the number of scholarship opportunities was simply the right thing to do."
FTD University scholarships are offered exclusively to active FTD Member Florists in good standing, or their employees, who share our passion for continuing education in the floral industry. Past recipients have praised their experiences. Take it from 2016 winner Nancy Bergman of Krupp Florist in Belleville, Illinois: 
"FTD Boot Camp was an invaluable experience. There was so much information and so many ideas to bring back to the shop, from quick design techniques to social media and website education. I'd do it all again!"
A total of twenty $1,000 scholarships will be awarded to the floral industry events listed below. Recipients must be first-time attendees of the events.
FTD Boot Camp (12 scholarships available)
FTD Boot Camp is the perfect blend of business, design and quality training for shop owners and managers. It is held in a small classroom setting at FTD Headquarters in Downers Grove, Illinois, to provide an opportunity for open discussion and idea generation. Learn more by clicking here.
AIFD National Symposium (4 scholarships available)
The 2017 AIFD National Symposium, titled "X," will be held in Seattle from July 1-5. This dynamic event attracts designers, educators and floral enthusiasts from around the world. To learn more, visit aifd.org/2017-symposium.
SAF Annual Convention (4 scholarships available)
Held this year in Palm Beach, SAF Annual Convention attracts all segments of the floral industry for education, networking, competitions, new product information and awards. To learn about the event, visit safnow.org/events-education/annual-convention/
Apply today for an FTD University scholarship! You will be asked to provide information about your shop and answer five short essay questions. All applications must be received by April 1 and winners will be notified on or around April 24.
FTDi.com/FTDUniversity
0