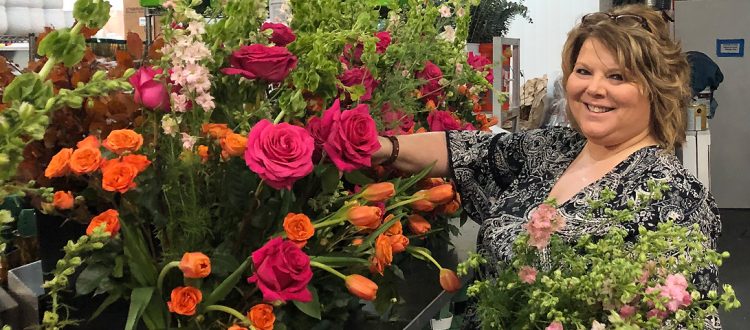 2019 Intern with Ian Winner Learns How to Take the Next Step
Located on the far southeastern part of Tennessee, the small town of Cleveland is at the base of the Appalachian and Great Smoky Mountains and near Cherokee National Forest. Cleveland is also home to Connie Isbill, owner of Isbill Floral Gallery and the 2019 winner of the Intern with Ian contest, an annual FTD-sponsored floral event experience.
Click images below to view gallery.
"When I learned that I won, my heart was racing with excitement!  What an opportunity for a girl from a small Tennessee town! I was a bit nervous about going to a big city to work with people I didn't know, but at the same time I was really looking forward to it," Connie remarks. "Over the past few years, weddings and events have become the most predominant part of our business. I applied to this contest because I wanted to see what I could learn from someone like Ian, who is super successful and has extensive experience doing large scale, extravagant events."
Connie recently spent a long weekend in Tampa, Florida, working several events run by Ian Prosser, AIFD, and his company, Ian Prosser Productions. A 40-year industry veteran and member of the FTD education team for more than a decade, Ian is world-renown for his stunning creations and producing high-end events for an expansive client list that has included celebrities, royalty and U.S. presidents.
While the glitz and glamour of Tampa's high society may seem worlds away, it presented a valuable opportunity for Connie to take her business to the next level. Although Connie's 2,500-square-foot floral and gift shop is in a small town, Isbill Floral Gallery manages to do 1-2 weddings almost every weekend in Cleveland and surrounding areas, including nearby Chattanooga. Isbill Floral Gallery has been an FTD member since 2012, when Connie opened her shop.
With a dose of knowledge doing work for weddings and events, Connie was also selected as this year's winner because of her eagerness to learn and elevate her career, as well as enhance her design and business skills.
Connie spent three full days working side-by-side with Ian and his crew. The first day primarily included prep work in the warehouse and planning everything out for the weekend's numerous events. Friday evening, the first event took place at the Tampa Yacht and Country Club. The extravagant Gasparilla Party for 230 guests included a French-inspired, New Orleans Jazz Club theme and took place both outside and under a tent. Ian's team was charged with creating the entire environment that involved many elements, in addition to floral pieces. Connie constructed floral containers and helped out wherever needed.
The weekend also included a more traditional, luxury fundraising event at the Tampa Museum of Art pavilion for prominent contributors. There, Connie helped set up and build centerpieces, once again working alongside Ian's team. The final occasion for the weekend included an upscale wedding at the European-style Oxford Exchange.
We gave Connie assignments like everyone else on our team. She fit in perfectly and was great to work with and very enthusiastic. I'm thrilled that as a result of this experience, Connie wants to move to the next level and become an AIFD designer," Ian says. "For me, that's really the point behind this contest. In addition to the knowledge gained from this experience, we hope that it provides inspiration as well.
While much of the weekend included hands-on work, Ian was sure to make time for a one-on-one consultation with Connie. "We talked about our process of putting proposals together, how we sell, what verbiage we use and areas to streamline. We reviewed our contracts and the Details software that we use to put proposals together," he explains.
Ian oversees this "internship" process every year because he is a firm believer in paying it forward. "I know that along the way, someone helped me. I've been very fortunate in life and I want other people to achieve greater things as well. I appreciate my involvement with FTD, because this contest gives me a vehicle to do this. There's no reason to "hold your cards close to your chest," as they say. Instead, I hope people continue to help others succeed."
"From the moment we met, Ian made me feel at right home. He eagerly shared personal and business stories with me, and encouraged me to ask questions along the way. I also felt very much a part of the team—I even got a company shirt like everyone else," Connie says. "He let me be very hands-on at all the events and wanted me to jump in if I saw something that needed to be done. I enjoyed working with him so much and I hope our paths cross again in the future!"
She adds, "This was a great experience to see what goes on in this business on a larger scale. I learned many things, but one of my biggest take-away was the introduction to the Details software program. In fact, I've already implemented it at my shop. And, at some point in the next few months, weddings and events will become a separate business. I encourage other florists to enter this contest! You will soak up so much information as you work with, listen to and learn from Ian!".
0