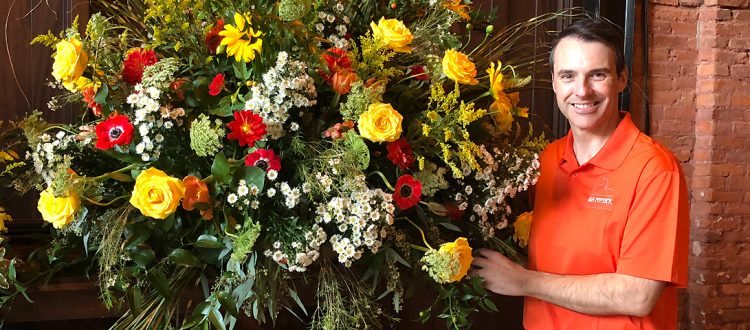 Making Masterpieces with a Master
Living and working in Victoria, British Columbia, Rob Jennings is quite used to seeing beauty on a grand scale. The city offers ocean and mountain vistas wherever you roam. Known as the City of Gardens, Victoria's temperate climate enables some of Canada's most famous gardens to bloom year-round. But as FTD's 2018 "Intern with Ian" winner, Rob was able to experience beauty on a whole other level.
This four-day experience provided Rob an opportunity to work side-by-side with world-renown floral designer Ian Prosser AIFD and his team on a couple of extravagant events in the Tampa, Florida area.
Click images below to view gallery.
THE FESTIVITIES
During the internship, Rob was part of the crew for two remarkable events. He worked alongside Ian and his team in the design studio to make the floral arrangements. Due to the high-volume work, some of it was assembly line production, but Rob also created solo pieces. "I made a 4-foot-wide centerpiece that was composed of 300 roses. It took three people to carry it into the venue. I had never worked on something of this scale before," Rob comments.
The work was being done for two events where Ian's company, Botanica International, was responsible for the overall event design and décor. The first occasion was a large-scale, private King of Gasparilla dinner. It included a pirate theme with some Texas flare, and entertainment by the Gatlin Brothers. Rob was involved in the set up and completing some of the floral work onsite.
Next up was a Halloween party hosted by a popular online celebrity who is known for throwing extravagant parties. Taking place in her home, Ian's team created a whole new environment from the front entrance and throughout the house to the back yard and pool. To set the stage and ambiance, the crew brought in new furniture, flowers and other elaborate décor like a floating coffin and crystal boat, essentially transforming her home.
TEAMWORK FOR THE WIN
"Ian, his family and staff immediately made me feel like I belonged and part of the team. From the first moment I met Ian, he welcomed me into his world. The team made me feel at home, like I had always been there. It was easy to get in there and roll up my sleeves," Rob recalls.
Each day Rob was witnessing and participating in all stages of the process –  from consultation to execution to clean up. This included meeting the event hosts and mingling with other vendors. He noted that the team's professionalism, skill and communication made it a seamless process. "They have amazing teamwork and have set the bar high."
AN INCREDIBLE LEARNING EXPERIENCE
Rob saw how every detail was preplanned and thought out, and commented that it was amazing to see all the detailed timelines and work that goes into each big event – and how it all comes together.
At the events, Rob witnessed how the hosts were blown away when they saw how Ian's vision came to life. It was clear that their expectations were exceeded.
There were also opportunities to learn firsthand from a master. Rob saw how Ian greets and meets with his clients, sources and orders flowers, as well as stocks and inventories rental items and hard goods. "Everything Ian does is top notch and seeing the process from client consultation to execution to break down was awesome," Rob adds. He also found it inspiring to watch Ian simply pick up a design knife and bucket of flowers and create a masterpiece.
"I'm inspired with new ideas, gained new skills, know how to better lead my team and set my shop apart"
The experience showed Rob a different way to handle events and how to take his business to the next level. "I'm inspired with new ideas, gained new skills, know how to better lead my team and set my shop apart," Rob said.
This was a great experience for Ian and his team, too. "Rob blended in beautifully with our crew. He's a talented, established designer who is on top of trends. But, he is also a hard worker and a pleasure to be around. (He even sang as he worked away!)," Ian fondly remarks.
PAY IT FORWARD
As a worldwide leader in the floral industry, Ian is committed to mentoring young designers. "I believe in paying it forward," he explains. "This internship provides the perfect education vehicle to help others in the industry. My company will be 30 years old in January, and I have learned a lot along the way. I want to share my knowledge of how I went from a local florist to a company that produces high-end, extravagant events."
This includes teaching business practices, details on using contracts, and sharing what worked and what didn't. He also wants to offer encouragement so that others can realize their dreams and become the go-to professional florist in their town.
SEIZE THE GOLDEN OPPORTUNITY
"My internship and positive experience will always be with me." Rob remarks. "I have a new perspective on the importance of a common vision and communication for weddings and other special events. I know my four days at Botanica will always be with me. I am so grateful to FTD and Ian Prosser for this incredible and inspiring experience."
"I am so grateful to FTD and Ian Prosser for this incredible and inspiring experience."
He enthusiastically adds, "To my fellow FTD Florists, I would wholeheartedly say, you simply must enter this contest. It is not a vacation – you have to be open to learning, working hard and seizing the moment. But, the real prize is having the opportunity of a lifetime!"
0