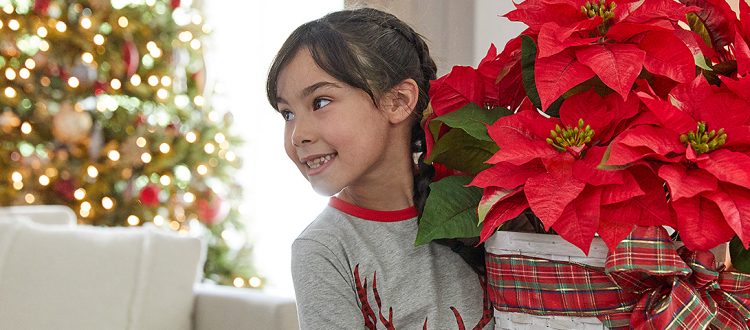 'Tis the Season for Festive Flowers
Christmas is right around the corner and you're up to your eyeballs in festive flowers. In the spirit of the season, we thought we'd share some fun trivia on everyone's favorite holiday blooms.
Poinsettia

To the ancient Aztecs, the poinsettia was prized as a symbol of purity. Later on, early Christians in Mexico adopted it as their Christmas Eve flower. On a practical level, poinsettias are popular Christmas flowers because of their bright red color and a blooming season that coincides with the holiday.
Christmas cactus

Like the poinsettia, Christmas cactus frequently blooms around Christmas. Christmas cacti bloom in shades of white, pink, yellow, orange, red and purple. In the U.S., cultivars are propagated in large numbers for sale before Thanksgiving, while Europeans tend to buy the plant right before Christmas.
Christmas rose

Also known as the "snow rose," the Christmas rose originated in the tropical regions of Asia. Cultivated Christmas roses often bloom during the winter. Despite their name, Christmas roses are actually hellebores and not related to the rose family. According to folklore, the Christmas rose sprouted in the snow from the tears of a young girl who had no gift to present to the Christ child in Bethlehem.
Amaryllis and Paperwhites

Amaryllis and paperwhites have become very popular holiday gifts for their affordability and because their bulbs bloom very freely indoors. They're not difficult to grow and can be brought into bloom every year if treated correctly. They also make great centerpieces because their flowers sit up higher, allowing guests to see each other across the table.
Holly
Holly is sometimes referred to as "Christ's thorn." It is heavily associated with Christmas in European countries, where holly wreaths are hung on doors and sprigs of holly are used to trim Christmas puddings.
Mistletoe

Today we exchange kisses under the mistletoe at Christmastime, but the plant's roots in winter celebrations go back a long way. Druid priests used mistletoe in winter celebrations a full two hundred years before the birth of Christ.
Merry Christmas from our team to yours!.
0