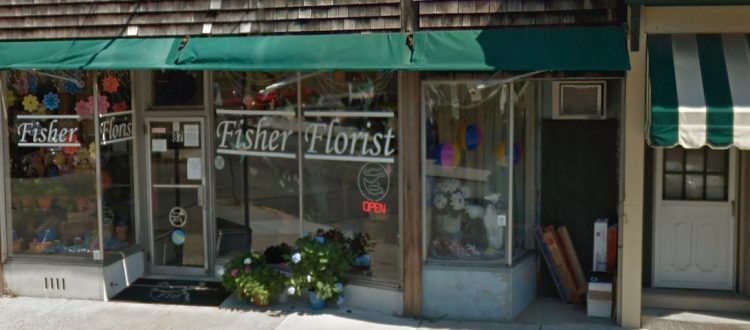 109-Year-Old Floral Shop Mixes Old Traditions with New
To be in business for over 100 years, Fisher Florist in downtown New London, Connecticut is definitely doing something right. The 1,200-foot store services around 15 local towns and boroughs in a 22-mile radius. While they could easily expand, owner George Fisher insists on keeping the business small to focus on quality and personalized care. "We've always been about customer service, and we don't plan on changing that," he explains.
It's All in the Family
Established in 1910 by George's grandfather, George E. Fisher, this family owned florist has been run by three generations. It became an FTD member more than 100 years ago in 1917. George, the current owner, got into floristry in 1975 after he got out of the service. It was just supposed to be for six months, but he ended up loving the work and stayed. George became a partner five years later and by 2000, he was the sole owner.
"It may sound corny, but on someone's darkest day, flowers can bring a smile or bright moment. Flowers also enhance great celebrations," George comments. "I can't think of another industry that has that impact. That makes my work rewarding. I love what I do!"
While floristry is in George's blood (his great grandfather also worked in the industry), his extended family includes his loyal staff and customers. "Our amazing team members have been with the shop for decades and have over 200 years of combined design experience. One of the shop's longtime employees started at 15-years-old and worked until he was 88," George says. As team members retired or moved, the shop cut back on volume, choosing instead to concentrate on quality and doing the job right for his equally wonderful customers.
If It Ain't Broke, Don't Fix It
George primarily follows the same business model that was used for decades. He admits that the basic running of the store is old school, but it's also tried and true. That's part of the reason he keeps these traditions:
If you come into the shop in person to pay your bill, we hand you a flower.
When someone in our shop is having a bad day, we give them a flower, too.
We greet each customer who enters our store and provide a personal experience.
If we are helping a customer in our shop and the phone is ringing, we will not leave that person to answer the phone.
Some of our longstanding customers have their own basket or vase they want us to build the arrangement in and we will use it for their holiday order.
Most of our cut flowers are on display in buckets in the shop, not behind glass doors. We want our customers to experience the flowers—see, feel and smell them.
Changing Ever So Slightly with the Times
Some change is inevitable as the industry evolves. Fisher Florists keeps up with trendy flowers and colors. In addition, flowers are no longer seasonal and there is greater availability all year long. With that, flowers are ordered daily to get the freshest varieties and colors.
Although website orders are becoming more common, Fisher Florist ensures the personal touch by following up with an email or phone call to confirm, ask questions or update the order status—for every single order. "I believe that is the key to differentiating ourselves from online floral companies. It's all about personalization, communication and customer service," he adds.
Fisher's also uses Facebook to mainly post photos, and sees a slight uptick for walk-in customers. But, their best advertising continues to come from word-of-mouth. George and his employees are also involved in community organizations, and many of those members who become friends also become customers.
Another change that George enacted is putting flowers outside when the temperature is above 38 degrees. "It brightens bleak days and also draws attention. And when flowers are slightly damaged, they are not thrown out. They are put out in front with a "free" sign," he adds.
Going Above and Beyond
Just look at Fisher Florist's five-star rating on Yelp, and you will quickly see why customers offer rave reviews—personalized service, communication, going above and beyond. George and his shop have a reputation for providing outstanding customer service.
"People sometimes call me at home or contact me even when the store is closed. They know they can count on us and that we will do all we can to help them out," says George. "We also like creating things tailored for each customer; nothing is mass produced. We take the time to really talk to our customers, and it is in those conversations that we learn about them personally and what they really want and need. It's also important to be honest. It's okay to say no if you can't do something."
In addition, George is sure to work within everyone's budgets by offering various price points. "This may mean that we don't always make a lot of money, but I believe that if you help someone they will remember how they were treated. That's how you get repeat, loyal customers," George says.
That trust is reflected in the fact that about 60 percent of clients give a price and color preference, and then entrust George and the designers to do the rest. He adds, "I'm satisfied when we get it right and clients are happy. But, if we screw up, we own it and fix it. I believe that's how you stay in business."
0