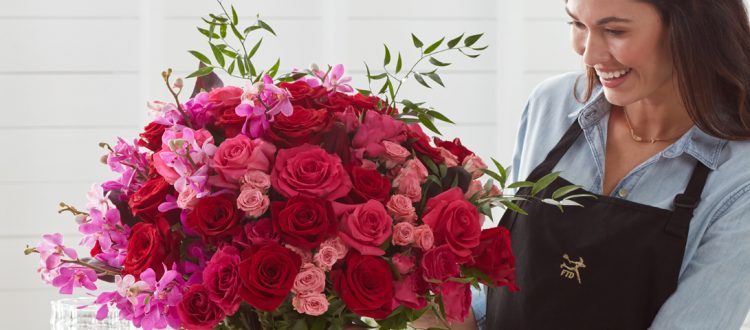 Get Social This Valentine's Day
Keeping your social media channels updated this Valentine's Day is the perfect way to stay top-of-mind among potential customers. It's also a helpful and cost-effective way to promote your business – as long as you're doing it right. Below are some of our favorite social media strategies.
Facebook
Post behind-the-scenes photos of your Valentine's Day preparations or your holiday display and tag your customers as you prepare their orders (just be careful not to spoil any surprises!). The added benefit of tagging is that when you tag someone, it appears on their wall, allowing their friends to also see your photo, which increases engagement. You will only be able to tag people you are connected to. For a small fee to Facebook, you can promote your posts to increase your reach.
TIP: Set aside an hour to plan out your Facebook calendar for the month so you're not scrambling to come up with post ideas.
Twitter
Don't overlook the best real-time tool in social media for Valentine's Day. Sending tweets out to your followers is a great way to keep everyone updated on what is happening in your shop. Twitter is a great tool for connecting with people both on and offline.
TIP: Keep an eye on your Twitter mentions and respond to the people who tag you. This shows you're dedicated to customer service and paying attention to feedback.
Instagram
Instagram is the smartphone photographer's app of choice. Its unique editing features allow you to enhance photos before uploading them. Plus, you can instantly share your post on other social media sites such as Facebook, Twitter, Tumblr and Flickr as you make your Instagram post.
TIP: As you're designing, stop for a moment, snap a photo with your smartphone and post it to Instagram in real time.
Pinterest
Pinterest is a virtual mood board of thematic collections. Use it during Valentine's Day to create themed "boards" to engage your customers and entice them to purchase from your shop. Create a variety of boards with floral and non-floral-related items and link your posts back to your website so that consumers can purchase right from the link.
TIP: Go beyond flowers with your boards and include gift suggestions, home décor, table settings and more.
Social Media Dos and Don'ts
Do:
Use content-driven posts to gain followers and potential customers.
Engage your audience with questions and posts that encourage discussion.
Focus on sharing your brand story across all your social channels.
Plan your posts ahead of time.
Don't:
Just ask your audience to "like" or follow your page.
Post content without describing what you've posted.
Post personal information on your business page.
Share content that is irrelevant to your business.
Not enough hours in the day to handle social media on your own? Let FTD "Market for You." Our experience, professionalism and results-oriented marketing campaigns can help drive local business into your shop and help you achieve your sales and marketing goals. To learn more, visit FTDi.com/MarketforYou.
2