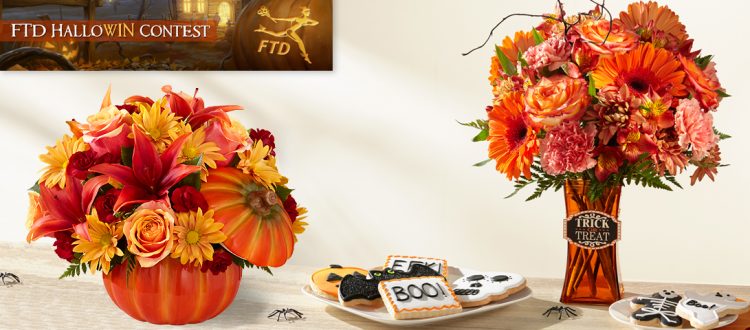 Scare Up More Business This Halloween (and Win a Treat!)
The National Retail Federation estimates that Americans will spend more than $8.4 billion on Halloween this year, with the average consumer spending an average of $82.93. How can your shop dip your hand into the candy bowl? Here are five of our favorite ideas.
1
Open your doors to trick-or-treaters.
Trick-or-treating isn't just for residential neighborhoods. Put on a costume and pass out goodies to passersby. How about pairing a sweet treat with a coupon that encourages shoppers to come back for a discount on Thanksgiving or Christmas flowers?
2
Get social!
Post pictures to your social media accounts showing how flowers can be incorporated into Halloween decorations and costumes. This is a great opportunity to show off your body flower skills – what fairy or flower child costume couldn't be improved with a fresh flower crown?
3
Take advantage of your windows and sidewalk.
Consumers might not automatically think of florists for Halloween decorations. Put your most festive wares in your front window or decorate a chalkboard sidewalk sign and list your store specials on it. Don't forget to show off your fresh flowers and plants and mention that a festive centerpiece is the perfect Halloween party accessory.
4
Don't miss upsell opportunities.
Make sure your counter area is stocked with Halloween-themed goodies, such as candy corn, chocolates or balloons. These are easy add-ons for a holiday with such a big focus on treats!
5
Capture email addresses with a raffle.
Create a fun Halloween-themed raffle in your store and have customers enter by filling out a slip of paper with their contact information, including their email address. Update your records with the email addresses you capture and be sure to include them in your holiday promotions.
---

Are you ready to do some trick or treating of your own? Try your hand at the FTD HalloWIN Contest below. We are giving six EIGHT lucky FTD Members a $50 Visa gift card between October 19 and 31!
5