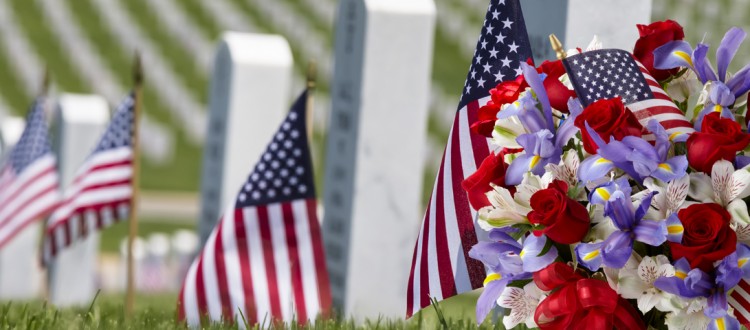 Five Ways to Celebrate Memorial Day with Flowers
Did you know that flowers have been entwined with Memorial Day since the creation of the holiday? When Memorial Day was first observed on May 30, 1868, flowers were placed on the graves of Union and Confederate soldiers at Arlington National Cemetery. This Memorial Day, encourage your customers to keep flowers part of the celebration with the following strategies.
Step up your social media game.
Start promoting Memorial Day flowers early on your social media pages so customers can order their delivery pieces before they head out of town for the long weekend. You could also host a social media contest, such as asking your followers to share a few words of appreciation for veterans. Select a winner and award them a complimentary patriotic arrangement.  (Don't have time to tackle social media yourself? Let FTD's Market for You team take the reins.)
Offer a custom bouquet or wreath.
Craft a dedicated Memorial Day bouquet or wreath and display it on your social media pages. For a special touch, consider including white carnations, which signify remembrance, or working in real or artificial poppies, which are commonly associated with Memorial Day.
Think beyond the cemetery.
While most people think of Memorial Day as a time to deliver flowers to the graves of veterans, encourage your customers to also stop by your shop for festive centerpieces for get-togethers or to display in their homes in honor of lost loved ones. You could also promote delivering flowers to living veterans, including those in area nursing homes. In addition to your original designs, be sure to check out FTD's patriotic bouquets, including the Unity Bouquet and Loyal Heart Bouquet.
Don't be caught off guard by cemetery restrictions.
Avoid frustration by contacting local cemeteries to see if they have any restrictions on what can be placed on graves, then convey this information to your customers when they place orders.
Participate in a parade or other community event.
Taking part in your town's Memorial Day parade or other special event is a great way to promote your business and give back at the same time. You might consider reaching out to the local VFW or other veterans group to learn more about their plans. Many communities place flowers on the graves of veterans and would likely appreciate any assistance you can provide.
Have other ideas for celebrating Memorial Day? Share them with us below or tag us (@mercurynetwork) in your Instagram posts!
3