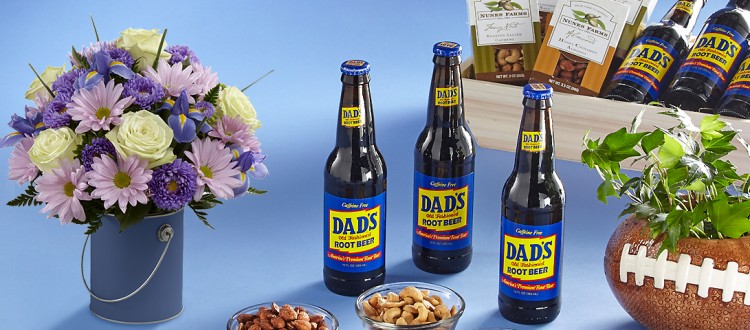 Five Thoughtful Ways
to Celebrate Dad
Father's Day might not bring flowers to mind in quite the same way that Mother's Day does, but with a little creativity, you can fashion memorable gifts as unique and thoughtful as the dads who will be receiving them.
1
Think outside the vase.
For the dad who implores his children to "waste not, want not," create a bouquet in a container that can easily be reused, such as a coffee cup or even a beer mug. Don't forget to include a small bag of coffee or a bottle of root beer! You could also promote the FTD Color Your Day bouquets, which arrive in paint can-inspired containers that can easily be repurposed as catchalls.
2
The way to Dad's heart is
through his stomach.
Remember when bacon roses hit the Internet? Fashioning flowers out of meat might be a little extreme, but you can still satisfy Dad's cravings with edible add-ons, such as a box of chocolates, beef jerky or pretzels.
3
Create a great addition to his yard.
For the dad who remains vigilant in the war against dandelions and prides himself on perfectly straight lawn mower lines, suggest artfully arranged succulents or a decorative cactus that will make his manicured backyard look even more attractive.
4
Help him relax.
Dads work hard. They also worry a lot. Maybe the person buying him flowers is the very person who stresses him out the most. For the dad who needs to unwind, suggest a bouquet that features plants renowned for their aromatherapy properties, such as eucalyptus, rosemary and lavender. A bonsai plant or bamboo might also help Dad feel more Zen.
5
Root-root-root for the home team.
Consider offering a special Father's Day bouquet in the colors of your local pro sports team. Pair it with a tiny team pennant or a small bag of gourmet popcorn that Dad can munch while watching his favorite team play. Get inspired by the FTD Color Confections collection, which is available in a rainbow of colors to complement pro and local sports teams (or just Dad's favorite hue).
How does your shop create memorable Father's Day pieces? Tell us in the comments below!
2