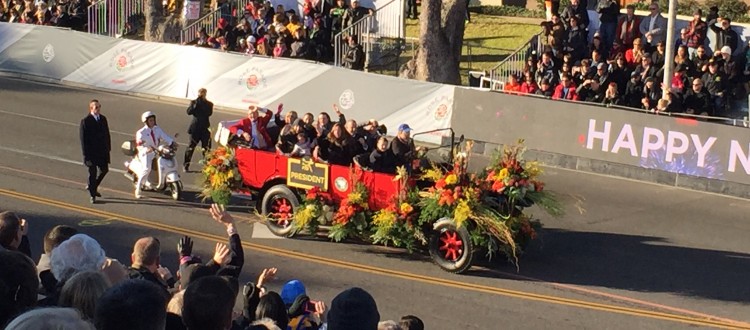 FTD Celebrates the New Year in Pasadena
Tradition – it's how most people celebrate each January 1 as they ring in the New Year. For FTD, it means being up front and center at "America's New Year Celebration" and all of the events leading up to it the week prior. In fact, for more than 60 years the iconic Mercury Man and the FTD brand have been a part of the Rose Parade in some way, as FTD is the Official Floral Partner of the Tournament of Roses. The sponsorship has been a reigning tradition and it has meant decorating the official antique VIP vehicles that carry parade dignitaries down five and a half miles of the historic parade route. This annual ritual in Pasadena, CA keeps the FTD brand in front of millions of consumers worldwide as they reflect that very first morning on the previous year and resolve for even better in the year to come.
This year, FTD Education Consultant and design expert J. Keith White AIFD celebrated his 10th year decorating the VIP vehicles. His small design team decorated four official parade vehicles featuring 6,000 stems – totaling a whopping 300 pounds! This took more than 1,120 man hours of continuous work from Christmas Day through New Year's Eve, which is nothing short of a miracle!
That wasn't enough, though! Keith and the design team went the extra mile and made sure to use fresh flowers locally grown in California on all four vehicles. Since 85% or more of the fresh flowers used on the vehicles were grown locally, the California Cut Floral Commission certified the parade vehicle entries as "California Grown" at a ceremony on December 31 in Pasadena. The ceremony was officiated by the California Department of Food and Agriculture Secretary Karen Ross. Also on hand were several California flower farmers to say thank you to FTD.
The FTD Florist Marketing team worked in advance of the big event, planning and preparing a sweepstakes, signage, giveaways, floral centerpieces for various Rose Parade events and so on, so the FTD brand could be on everyone's minds while they attended this "bucket list" event. We even sent FTD Florist Richard Kraus of Fred's Flowers in Hayward, CA, on an all-expense paid trip to the Tournament of Roses as the winner of the "Everyone 'Likes' A Parade Sweepstakes" that was held on the Mercury Network Facebook page. These types of sweepstakes are a great way to show how much we value our FTD Florists!
Leading up to the Rose Parade, the FTD team was onsite spreading the awareness of the brand in a variety of ways including:
Handing out thousands of single-stem roses during public viewings of the VIP vehicle and float decorating
Working with several FTD Florists to create the floral décor at various receptions, including the President's Ball where the country's most well-known broadcasters, sportscasters, and VIP parade dignitaries all gathered to kick off the celebration
Working with the social media team to document all of the events and action in Pasadena
And so much more!
If you tuned into NBC from home on January 1, you would even have heard NBC broadcasters mention FTD dozens of times. Each year, FTD decorates the broadcast booth for NBC where Hoda Kotb and Al Roker perch above Colorado Boulevard commentating on the Rose Parade. Simply put, we were everywhere!
What does all of this mean to you? Being a part of the innovation, inspiration and tradition that makes up FTD's 105-year storied history puts you up front and center at the Rose Parade each year too. As we ring in the New Year with all its nostalgia and glory, we celebrate many of life's most memorable moments with millions of viewers worldwide. We remind them of the beauty of the floral industry and that sending flowers and gifts is still one of the greatest ways to show loved ones how much they care.
Happy New Year!
Check out more photos of FTD at the Tournament of Roses at Facebook.com/MercuryNetwork.
12