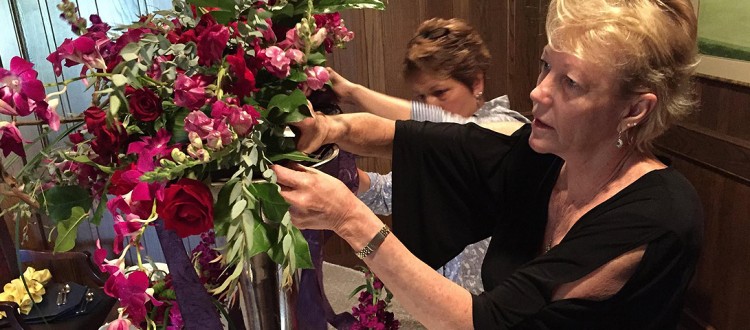 Behind the Scenes at
Florists' Review
Have you ever flipped through the newest edition of Florists' Review and wondered how the beautiful bouquets comes together? FTD Education Consultant Deborah De La Flor AIFD, PFCI, who worked behind the scenes on the magazine's August 2016 issue as well as the yet-to-be-seen October and December issues, and Jessica Herrera, Corporate Communications Manager of Florists' Review, gave us an exclusive peek into the process.
"As a floral artist, you want to be trendy before consumers are identifying the trends."
– Deborah De La Flor AIFD, PFCI
FTD: How do you choose trends and features for the magazine?
Jessica Herrera: Our editorial focus is set out way in advance, so we know what overall theme (i.e., sympathy, event, Christmas, etc.) we are designing for. After that, our floral design coordinator, Lori McNorton, orders in flowers. Lori typically designs and arranges as well as assisting in every photo shoot when we have a guest designer.
FTD: How do you choose flowers for the features?
Deborah De La Flor: Picking flowers greatly depends on the trends. With the trend of "just picked" or "garden," you will want very loose and lush florals that would look like they came straight from the garden.
FTD: What does your team keep in mind when designing?
Jessica Herrera: Color themes are very important. Also, you must know your customer before beginning to design. Our team designs according to the containers they have chosen, paying close attention to the colors, shape and style of the vase. This is what Deborah likes to call "product blending," where all of the materials in the design matter and are there purposefully. Nothing is on accident.
FTD: How do you recommend florists stay on top of trends?
Deborah De La Flor: Subscribe to magazines, such as consumer publications and industry mags like Florists' Review, and see what the rest of the industry is doing, and then follow the trends that you find. Also, Pinterest is a great way to see what is happening right now, especially for bridal clients, although as a floral artist you want to be trendy before consumers are identifying the trends.
FTD: What trends are really exciting you right now?
Deborah De La Flor: Right now, loose and airy designs are very trendy. These kinds of arrangements have a lot of depth and a lot of different of foliage like vines, ivy, plumosa fern, etc. They are meant to look imperfect and like they were just picked from grandma's garden. One way to do that is to keep all the little buds and tendrils rather than clipping them off. Another trend I'm seeing is "sheltering." It's very delicate. You can arrange very dainty foliage to lightly dance across a design, creating a kind of transparent cover so to speak.
Be on the lookout for the August, October and December 2016 issues of Florists' Review to see more of Deborah's designs!
Photo credits:  Florists' Review
3