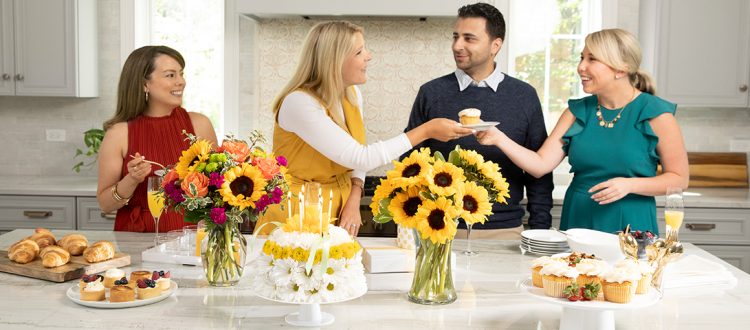 7 Birthday Flower Power Tips
In these challenging times, there are still reasons to celebrate. Birthdays, for example, haven't been put on pause. But, singing Happy Birthday when you are washing your hands during this pandemic just doesn't cut it. As a local flower shop, you need to offer your customers creative ways to recognize these momentous occasions and make birthdays extra special.
In a way, what we do as florists seems even more important and meaningful now. With birthdays as the number one occasion year-round, flowers provide the perfect pick-me-up – bringing color, beauty and life. And, with in-person visits being difficult at the moment, a touchless floral or gift delivery provides a welcome reprieve.
Here are seven tips to help boost birthday sales and enhance celebrations:
Create an enticing gift guide on your website and/or blog.
Showcase all your products and inspire your customers with new, creative ideas.
Send email reminders two weeks out to past purchasers of birthday flowers.
Consider adding special promotional pricing as an incentive for them purchase for this birthday again.
Develop an email marketing campaign that promotes birthdays each month.
Focus on increasing orders this summer, with August as the top birthday month.
Easily incorporate WebGifts into your website for hundreds of additional gift ideas, when you have an FTD® Florists Online website.
This adds another retail category to your site with unique gift ideas ranging from delicious gourmet food baskets to pampering/relaxation packages.
Any birthday is reason to celebrate, but make milestone birthdays extra special.
Include specific categories on your website (30th, 40th, 50th, etc.) for flowers, plants and special gift items.
Recognize each customer's birthday by offering them a special discount during their birthday week or month.
It's a special treat for them, and a way for you to personally recognize a birthday.
Every month has a designated flower that is referred to as a birth month flower.
Offer specials on that particular month's flower when used in a birthday arrangement.
In a world turned upside down at the moment, help your customers spread good cheer and recognize birthdays with the power of flowers—and more.
0