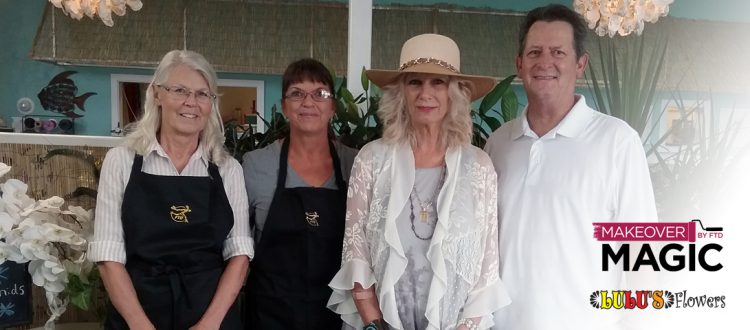 FTD Florist Spotlight:
2019 Makeover Magic Winner
Lulu's Flowers in Rockport, Texas was the winner of the eighth annual FTD Makeover Magic contest held in August 2019. Among nearly 100 entries, LuLu's was selected for the passion and resiliency displayed by owner Susan Hearne after Hurricane Harvey destroyed her shop and much of Rockport in 2017. After the devastating storm, the business was relocated to a former ice cream parlor in a shopping center, one of the few remaining retail properties available at that time.
FTD Education Consultant and design expert J. Keith White, AIFD spearheaded the complimentary shop and visual merchandising renovation, which was recently completed.
To view before & after photos, visit Facebook.com/MercuryNetwork.

FTD: Susan, what keeps you going, even in the face of adversity?
Susan: I have been working in the floral industry for 45 years. My family has industry roots in California, and it has become my passion. Flowers make people happy and I like giving back to the community. There is still a struggle ahead for all of us in Rockport, probably another three years, as about 35% of residents and tourists have not yet returned to our town. But, I believe we can overcome the many challenges we are facing.
FTD: Keith, what were your initial impressions of the shop?
Keith: There was a lot going on that was distracting to the flowers and other merchandise. The existing shop was furnished with bits and pieces from the previous store, as Susan's initial goal was to open a new location as soon as possible after the hurricane, even with limited financial resources.
FTD: What were your goals for this project?
Keith: We wanted to instill a sense of calm after the storm, so to speak. We knew it was important to create an inviting, casual, up-to-date coastal vibe that fit the town's location and appealed to the customer base. I also wanted to set up an efficient work environment.
FTD: Tell us a little bit about the process for the makeover.
Susan: The overall process lasted several weeks, while the actual makeover took place over several days. Initially Keith and I spoke on the phone. Then he visited several times before presenting his ideas and suggestions. My employees, Kathleen and Kim, and I were involved quite a bit. We helped paint, make new labels, create a center piece for the middle of the store – basically whatever we could to contribute.
Keith: My conversations with Susan were really positive about making changes so she could have the store she always wanted, and one that her employees and customers would also enjoy. We began the design process with a storyboard of inspirations and design concepts. Then, it was time to turn these concepts into reality. The majority of the fixtures and merchandise were sold off to make way for the new. Demo and painting began on a Saturday, and by that afternoon Susan and her staff were helping out. We got far enough on Sunday for the store to be open for business the next morning. New items were being sold quickly before noon on Monday, even before the final merchandising took place! After we completed the makeover, the employees ended up painting and finishing the entire processing, storage and office areas of the store. This was a true commitment and team effort for an entire store makeover!
FTD: Were there any major challenges?
Keith: It is always a challenge to get the absolute most out of a budget, so careful planning and priorities are a must with each makeover. Leased versus owned space is also part of the planning and priorities. A main focus of the makeover is to create a new and successful merchandising and shopping environment.
FTD: What was your favorite outcome?
Susan: I absolutely love the new counter with functional drawers and shelves. And, I am so happy that bamboo was used to replace the yellow awning cover. I'm not fond of lattice and that was also covered with bamboo. I also love that we learned so much about merchandising that can be used every day. Keith taught us how to incorporate seasonal items and bring in a little color. We learned how to better present our products, even down to having nicer, uniform price tags. Another perk is that Keith brings so much energy, and he is now a great advisor, mentor and friend.
Keith: I was thrilled that Susan and her employees were completely satisfied, and that customers were amazed at the transformation. From a material standpoint, I have many favorites. The oyster shell chandeliers really set the lighting ambiance for the updated coastal vibe. The aqua painted walls and bamboo awning and window treatments unify the store with the new display metal/driftwood fixtures, white and natural farmhouse tables, and pine and faux concrete consultation table and wicker chairs. And, moving the floral coolers exposed more wall space and visually opened up the space.
FTD: How do you think the makeover will impact business?
Susan: Immediately, we saw how the changes were making an impact and it is exciting. Even before the renovations were complete, we made a large sale. I think the attractive, open space will be appealing to our upscale clientele, as will the higher-end merchandise.
Keith: The floor plan and fixtures now provide a creative platform for merchandising. The new counter gives a professional appearance to the business, and proper design stations will increase efficiency. I also believe these changes make it a more appealing space and will help to attract customers and ultimately increase sales.
FTD: How do you feel about the results?
Susan: The redesign is absolutely phenomenal and gorgeous, and the space is so open and airy. It is motivating my employees because they have a better environment and workspace. I also appreciate that Keith involved me in the decision process. He was interested in making this renovation unique by adding personal touches so that it feels like my shop. Keith taught us that everything has to tell a story, so he incorporated photos of my Mom, who this shop is named after. My second cousin and family had ties to California and celebrities, and so there are thoughtful nods to this in the decorating. He even incorporated shell-framed mirrors that I make.
Keith: I'm very pleased with the selections and results. I'm especially happy that LuLu's Flowers was selected as the winner. This successful store was demolished after the hurricane and Susan was determined to continue despite the challenges. As in all the FTD makeovers, it is really nice to see change impact many people's lives and add a fresh approach to an existing floral business. There is truly a bond made with each and every makeover winner.
0