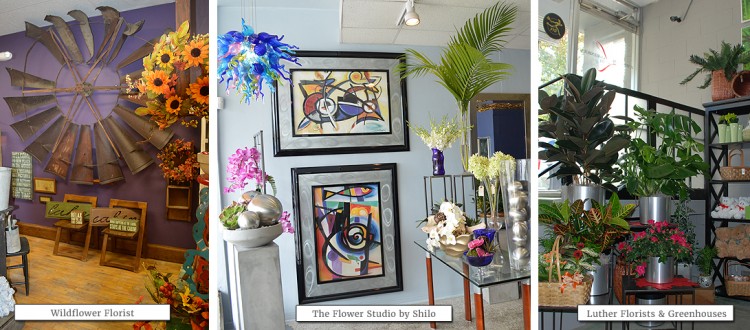 Five Reasons You Need to Enter to Win a Shop Makeover
FTD's fifth annual Makeover Magic contest is now open for entries! One lucky FTD Florist winner will receive a shop makeover, valued at $10,000, from FTD Education Consultant J. Keith White AIFD.
If you're still on the fence about entering, consider whether any of the following are true about your business.
1
Your shop isn't as polished as your designs.
We get it. Painting walls and updating fixtures just isn't as exciting as crafting a beautiful bouquet. But first impressions can go a long way in winning business. If a potential customer came into your store, would what they see make them feel that you deserve their dollars?
2
Your merchandising needs a boost.
Refined merchandising can create a space as visually interesting as your designs, and Keith knows how to make an impact. Take it from 2015 Makeover Magic winner Katie Lubbert of Wildflower Florist in Reinbeck, IA:
"With Keith's expertise in merchandising, the shop is so much more put together and styled than I could ever have done on my own."
3
You need a fresh perspective.
The last time you updated your shop, it looked fabulous – but trends change over time. As the creative director of American Floral Trends Forecast 2016-2017, Keith is a master of adapting current trends to fit any shop's aesthetic.
4
You need help making it happen.
You've meant to get around to sprucing up your shop, but you haven't had the time or resources. We'll help you get it done in just a few days. Shilo Grosz, owner of The Flower Studio by Shilo in Miami, FL, and the 2014 Makeover Magic winner, reported after her makeover that her shop:
"Looks so fresh, professional and organized. [Keith] did things I never would have had the budget for. I am so grateful."
5
You want to increase pride in your shop.
Do you and your employees enjoy going to work every day? A shop update can help make that happen. According to 2012 Makeover Magic winner Bonnie Luther-Hayes of Luther Florists & Greenhouses in Kansas City, MO:
"I feel so differently at work now. I have a whole new sense of pride in my business…My hope is to infuse some pride into our neighborhood and give my customers a reason to stop in and buy product from us."
Convinced? Ready to enter? Just follow these three simple steps.
Register and participate in the Maximize Your Merchandising Potential live webinar on August 16, 2016.
Submit a 75-word essay explaining why your shop interior deserves a makeover.
Submit 1 or 2 photos of your shop's current interior space & storefront window design.
All submissions should be sent to floristrelations@FTDi.com and must be received by midnight Pacific Daylight Time on Wednesday, August 17. Good luck!
2