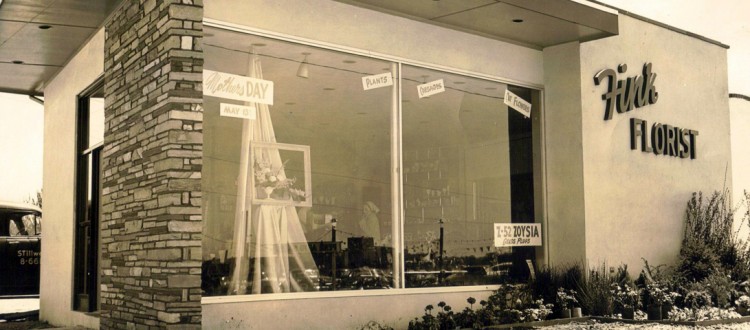 FTD Featured Florist:
Fink Flowers & Gifts
Fink Flowers & Gifts, located in Bristol, PA, boasts a history that spans more than a century across two continents.Owner Lori Sabatini spoke with FTD about her family's generations-long dedication to the floral industry.
"I am proud to be an FTD florist and will continue to be for many years to come."
Can you tell us about your family's history with the floral industry?
My grandfather, Hermann Fink, was born in Switzerland and studied floral design in France before settling in Trenton, NJ, in 1905 to open his floral business, Hermann Fink and Sons, and several greenhouses. He grew most of his own cut flowers for design. My father was the youngest of four and would help in the greenhouses and at holidays along with my two uncles, aunt, grandmother and cousins.
How long has your shop been in business? How long have you been an FTD Member?
My father, Alfred, and my mother, Gloria, opened this shop in 1956, so we're celebrating 60 years. I have been in the floral industry all of my life and am the third generation in my family. I remember learning how to make bows and corsages for Easter as early as 12 years old, but officially I entered the business in 1981, while attending college. We have been an FTD member since the shop opened and a FTD Top 1000 member since 1977.
What do you enjoy most about being a florist?
Each day is different, with different creative challenges. Some days are easy, some are stressful, but all the while you're surrounded by the color and beauty of flowers.
What advice do you have for florists looking to attract new customers?
Don't be afraid to try new ideas. Sometimes they are great and lead to more ideas. If they fail, you still learn something from them.
How do you try to set yourself apart from the competition?
Customer service, absolutely. Always put your customers first. Greet them with a smile, always be a good listener and be efficient in helping them place their orders.
Are there any current floral trends that really excite you?
I have seen the industry change in many ways over the past 35 years. I love the new creative ideas for prom and wedding work as well as the new sentimental tributes for sympathy.
We understand that your shop utilizes FTD Mercury Technology. What would you tell a fellow florist who is unsure about adopting the technology?
I have seen many floral software demos over the years. I would have to say FTD has one of the best point of sale systems in the industry. It is fast, efficient, easy to use and their tech support is always there to help with any issues you come across. It has great marketing capabilities to help grow your business.
What do you value about your partnership with FTD?
FTD always seems to be coming up with better ways to help florists market their businesses, save time and be able to do the things we need to do. They are always available when you have a question and treat you as a business partner for success rather than just a number. I am proud to be an FTD florist and will continue to be for many years to come.
1