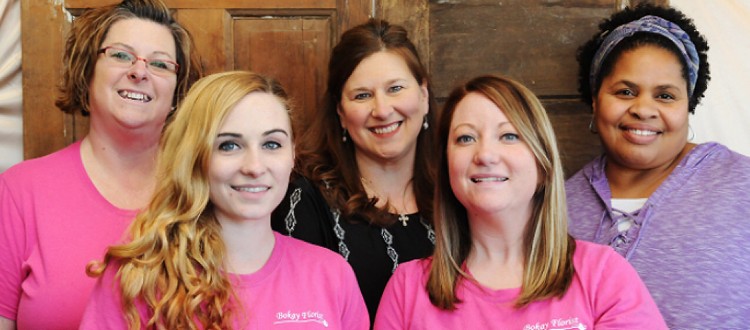 FTD Featured Florist:
Bokay Florist
Bokay Florist, located in Indianapolis, Indiana, thrives in a vibrant and creative community. Owner Colleen Sanders gave us a peek into what makes her business bloom.
"I would strongly recommend FTD Boot Camp for anyone, regardless of experience. It was refreshing and exciting. I left there ready to conquer the world!"
How long has your shop been in business? How long have you been an FTD Member?
My shop, Bokay Florist, has been a part of the Broad Ripple Village (Indianapolis, Indiana) for more than 50 years. I have owned it since September of 2014. Broad Ripple is a very vibrant, artistic, unique niche of Indianapolis. There are many restaurants, studios, shops, walking trails, etc. I love being a part of this community. I have been an FTD member from the first day. The previous owners were also members of FTD.
What made you want to become a florist?
My goal was to become a small business owner. I had been waiting for the right opportunity, and the floral industry was perfect! I love the industry, the people and the products. Surrounding myself with beauty every day is amazing.
What do you enjoy most about being a florist?
I love that every day, we make the world a little happier. It's very rewarding to see happy customers and brides, and the beauty we create for them.
What advice do you have for florists looking to attract new customers?
What I've learned, in my short amount of time in the industry, is that being a part of the community is very important. We value our relationships in the Village and have a personal relationship with many of our customers.
How do you try to set yourself apart from the competition?
We set ourselves apart with excellent customer service and attention to detail. Our design team is creative and experienced, and our manager is extremely customer focused. Together, our team sets a standard of excellence.
Are there any current floral trends that really excite you?
There are so many exciting things going on in the industry! My favorite would be the natural, garden style bridal bouquets. The soft, organic look is beautiful.
What do you value about your partnership with FTD?
I value the support of FTD. When you are a small business owner, all of the responsibility falls on you. It is nice to have a strategic partner to help navigate through marketing, sales, reporting, and day to day operations.
You joined us here at FTD Headquarters for FTD Boot Camp. How did you translate what was presented into how you conduct your business?

FTD Boot Camp was the best decision I made, after buying my shop. [Colleen and the shop's manager, Stephanie, have both attended FTD Boot Camp.] I had extensive business experience, but limited floral experience. Boot Camp was exceptional. The program was broken into sections to include all aspects of the business, including design. Not only did I learn about the industry, I made valuable connections to FTD professionals and other shop owners. The tips and support from these other shop owners is invaluable. I would strongly recommend FTD Boot Camp to anyone, regardless of experience. It was refreshing and exciting. I left there ready to conquer the world!
5