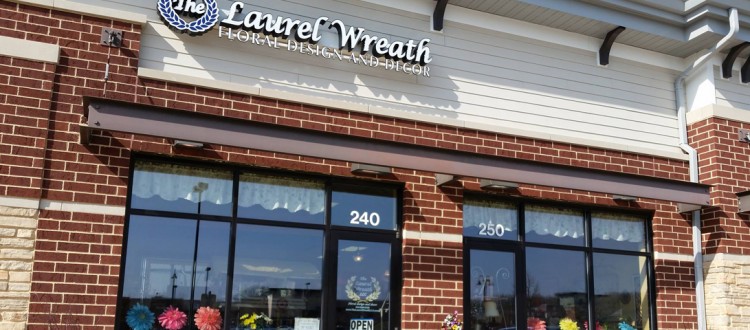 FTD Featured Florist:
The Laurel Wreath
The Laurel Wreath, located in Franklin, WI, strives to serve its customers with the same creativity, success and honor represented by its name. Owner Laura Staats spoke with us about how taking the ultimate leap of faith has paid off.
"There have been so many times that our arrangements have conveyed meanings that our customers were unable to express in words. What we do is a gift that must be taken seriously because of the trust our customers put in us."
How long has your shop been in business? How long have you been an FTD Member?
I became an FTD Member in the fall of 2013. I attended the FTD Boot Camp and Mercury Training during that time while my shop was undergoing a full build-out. We opened for business on February 8, 2014, just in time for Valentine's Day!
What made you want to become a florist? Have you always worked in floristry?
I have always loved flowers and gardening. After moving to the south side of Milwaukee, my husband and I joined a new church. I remember walking out one Sunday, looking at the weed-filled flower beds and saying, "Someone should fix these up!" I turned out to be that "someone."
I started with a simple Mother's Day flower sale between and after church services to raise money for bedding plants. It soon grew, literally, into a "month of Sundays" in May and we made enough money to not only plant flowers, but also do some landscaping with trees, bushes and sitting areas with benches. I spent hours in the greenhouses, reading tags and learning about what types of flowers and plants would work best in each area.  I loved to see people enjoying what gifts God had given us. It all started in a garden for a reason.
I didn't start out in the floral business with the intent to open my own shop. Leaving my high school teaching position was a true leap of faith, the bravest, scariest thing I have ever done. Several factors in my personal and professional life made it clear that it was time to make a change. I prayed and this was the answer. I went to design school and then worked for three different flower shops, which involved commuting to Elm Grove, Hartland and Wauwatosa. In searching for jobs, I realized there was a need for more floral shops in this area. So, I took a chance and here I am in Franklin.
What do you enjoy most about being a florist?
The most satisfying surprise in this whole adventure has making some very dear friends from those who first came into the shop as customers. Their encouragement and support has kept me going through those scary, sleepless nights. There have been so many times that our arrangements have conveyed meanings that our customers were unable to express in words. What we do is a gift that must be taken seriously because of the trust our customers put in us.
What advice do you have for florists looking to attract new customers?
Educate yourself and keep up with technology. Facebook, Pinterest and Instagram are free – use them to advertise. Keep your website current. Get to know your area church staffs and funeral home directors to increase your wedding and funeral referrals. Support your local schools' fundraisers. Give discounts to local public servants, like the police and firefighters. Read Florists' Review for sage advice from those who have been in the business for years to get promotion ideas. And, of course, go to FTD Boot Camp. You'll not only gain new skills, but you'll create a network of fellow florists to support you.
How do you try to set yourself apart from the competition?
What makes The Laurel Wreath unique is the time we give to our customers. We pride ourselves in giving that extra effort to make our customers happy. We are kind. While some shops strive for quantity of orders, we work for quality. The only sure way to keep your business going is to make sure that your customers will come back again and again. That is achieved by building their trust through good customer service and quality workmanship, no matter what size the order or product may be.
Education is another unique aspect of The Laurel Wreath. We not only teach our customers how to care for their arrangements and plants, but we offer group demonstrations and workshops. We encourage our customers to give us a call to schedule a fun event for their women's group, book club or scout troop.
Are there any current floral trends that really excite you?
I'm excited to add floral headpieces to enhance our wristlets and bouquets, not just for weddings, but for prom and other events. We have already made "permanent" versions to add to our event display to get our customers thinking about their upcoming events.
What do you value about your partnership with FTD?
I chose FTD because their vases and containers can be used for several arrangements and occasions in most cases. I feel the suggested retail prices of their arrangements are current with our wholesale costs and allow for a realistic profit. FTD is the only wire service I use.
I would also like to give a "shout out" to Kimberly Natalino, our Marketplace sales rep, who has gone above and beyond her duties to encourage me and support my shop from the very beginning. I am also enjoying getting to know our Field Business Consultant, Edgar Delagarza, who, from our first meeting this summer, has already had a significant positive impact on our business. Both have become our friends in addition to being our reps.
Is there anything else you would like to share?
Starting a business is like having a child. You don't sleep much and often wake up several times during the night worrying. It's a lot of work, but it's so rewarding to see it start to grow.
It's been fun to look back at those first pictures I took in the shop. I was, and still am, so proud of what we have built, but I now see how little merchandise we started out with. In the course of two years, we have met some wonderful business partners and, as a result, have added many new products, including candles, chocolates and artwork. We support local suppliers and participate in Shop Small, celebrating Small Business Saturday the day after "Black Friday," sponsored by American Express and FTD.
1