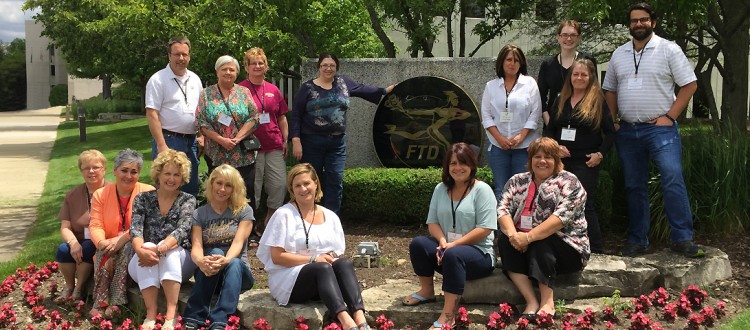 Building a Better Business at
FTD Boot Camp
It's FTD Boot Camp season! Our first Boot Camp of the year was held at FTD Headquarters in Downers Grove, Illinois, from June 6-8 and attracted attendees from all across the United States. FTD Boot Camp was created to help FTD Member Florists sharpen both their business and design skills and is led by FTD Education Consultant Ann Jordan AIFD.
"Once again, FTD Boot Camp inspired me.  Each attendee had so much to add to the classes that I learned something new every day to share with other members. Isn't that what it is all about?" - Ann Jordan
Attendees ran the gamut from seasoned industry veterans looking to inject new life into their business to individuals who had never picked up a floral knife.
"I'm new to the game and I wanted to come to FTD Boot Camp," said Cameron Pappas of Norton's Florist in Alabama. "I've learned unbelievable things about marketing and design. I've never designed anything in my life!"
After getting to know each other, attendees began the FTD Boot Camp business sessions by learning about current consumer trends including the 2016-2017 American Floral Trends Forecast. Other business sessions throughout Boot Camp included discussions on  care and handling, customer service and sales, wedding consultations, effective social media, marketing and more. Business sessions were facilitated by Ann as well as members of the FTD corporate team.
After wrapping up each day's morning business sessions, attendees spent their afternoons creating floral designs that aligned with the four major trends outlined in the American Floral Trends Forecast. FTD Quality Services Representative Pete Samek AIFD served as the instructor for all of the Boot Camp design sessions.
"Members gain flower knowledge by working with unique flowers and foliage and new products that are current to today's market." – Pete Samek
The first day of Boot Camp, attendees crafted an everyday design inspired by the vibrant green shades of the Park Manor trend using the lime green lantern featured in The FTD® Garden Collection by Better Homes and Gardens®. After each design session, Pete thoughtfully critiqued each attendee's bouquet and offered considerations for future creations.
The second Boot Camp design was a nontraditional sympathy bouquet that incorporated the bright, vibrant colors of the Luxe Avenue trend. The next day, attendees created a pair of avant garde designs that celebrated the eclectic Casa Tropicana trend as well as a hand-tied bridal bouquet in the soft, romantic hues of the Pearl Lane trend. On the final day of Boot Camp, attendees created body flowers perfect for prom or any other celebratory occasion.
Whatever their level of experience, each attendee found inspiration throughout Boot Camp.
"I enjoyed FTD Boot Camp because it helped me fine-tune my skills and we got to think outside the box," said Erin Millus of Designs of the Times Florist in Florida.
"The ideas I've learned from the other florists and from the marketing team at FTD are really things that we can use in our small shop, and in our small town," added Allison Kelly of Sinicropi Florist in New York.
Interested in joining us for a future FTD Boot Camp? A second session will be offered August 1-3. FTD Boot Camp veterans can also join us for FTD Re-Boot, a more focused, intensive three-day session held from October 3-5. To learn more and view the Boot Camp itinerary visit FTDi.com/FTDUniversity/BootCamp.htm.
5