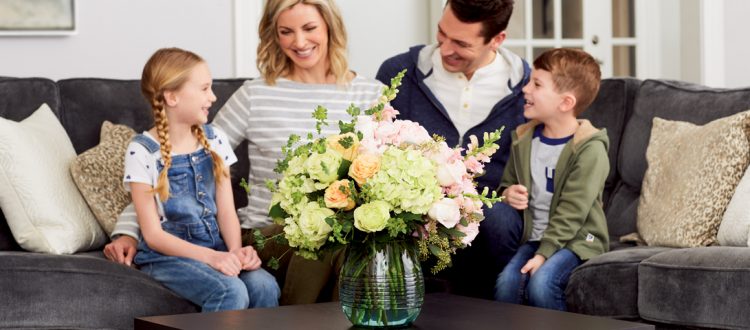 10 Tips for Mother's Day Success
With Mother's Day less than a month away, it's time to ensure your shop is positioned for success. Below, you'll find 10 tips from our team to help you delight your customers – and boost your sales!
1
We've created a dedicated site to help you prepare for the Super Bowl of floral holidays. On the site, you'll find a planning guide, recipes for featured bouquets, cheat sheets, social media posts and much more.
2
Download an FTD delivery confirmation tool
Real-time delivery confirmations are key to providing the level of service today's consumers expect. FTD Mercury Point of Sale users can download the Mercury Mobile app for either iOS or Android smartphones. Mercury Point of Sale, Mercury Direct and Mercury Cloud users can all utilize the new FTD text delivery confirmation service, which is compatible with any text-enabled cell phone. As an added incentive, you'll receive $0.50 for every FTD.com order you delivery confirm before 3 p.m. using one of the mobile tools. This incentive runs from May 7-13. Learn more at www.FTDi.com/Quality/Delivery.
3
Order your codified containers
FTD Marketplace has a wide variety of options for purchasing codified containers, including 12- and 18-piece combo packs. On average, this year's container prices are 25 percent lower than last year. The bouquets will remain on FTD.com through the end of the summer, so you can feel confident purchasing the containers.
4
Manage your incoming orders
To free up capacity to accept more orders from FTD.com, you may block certain senders from whom you do not wish to receive orders. Complete the form at www.FTDi.com/Block.
5
Promote your shop locally
According to the 2017 post-Mother's Day survey conducted by the Society of American Florists, the biggest factor related to holiday sales growth was advertising. Options for this include social media, store signage, online ads, email campaigns, print ads and direct mail. You can view all of FTD's local marketing assets at www.FTDi.com/LocalMarketing.
6
Don't run out of flowers
Take advantage of high-quality bulk flowers and time-saving pre-made bouquets at competitive prices from the FTD Flower Exchange. You can even purchase bulk boxes specially designed to fill FTD's project top-selling bouquets. By having these essential blooms on hand, you'll position yourself for more orders and be able to keep your Mercury on and accepting orders throughout Mother's Day weekend. Call the FTD Flower Exchange today at 800.767.4000.
7
Review care and handling basics
Consumers should be able to expect that their flowers will last for seven days. To help make that happen, keep flowers properly hydrated (including floral preservative) and prevent ethylene buildup by removing any dead or dying petals and not submerging foliage below the water line. For more care and handling resources, click www.FTDi.com/LocalMarketing/CareandHandling.htm.
8
Brush up on skills
Our florist network YouTube page, YouTube.com/FTDMercuryNetwork, is home to numerous floral design tutorials, recorded business-boosting webinars and quick two-minute videos addressing everything from marketing to merchandising. Visit the site when you have a few quiet minutes or use it to help train new team members.
9
Get on the Path to Orders
FTD uses the Path to Orders to land the right order with the right florist at the right time to create a successful delivery. The five components to the Path to Orders are:
Keep your Mercury system on and accepting orders.
Purchase Holiday and Everyday codified containers.
Review and manage your delivery area and cut-off times with FTD.com.
Fill and deliver every order with excellent quality.
Limit questions about substitution and additional funds or rejecting orders you agreed to fill when you purchased the codified product.
For more details on each of these steps, click www.FTDi.com/Quality/Path.
10
Review order handling best practices
Our team created a cheat sheet addressing the best way to handle the orders you receive from FTD. It specifically addresses order acknowledgment, ASK messages, blocking senders, reducing ZIP codes, delivery confirmations, suspending your Mercury system and rejecting orders. To view and download the document, click here.
The FTD team is here for you every step of the way this Mother's Day and every day. We thank you for your partnership!
0