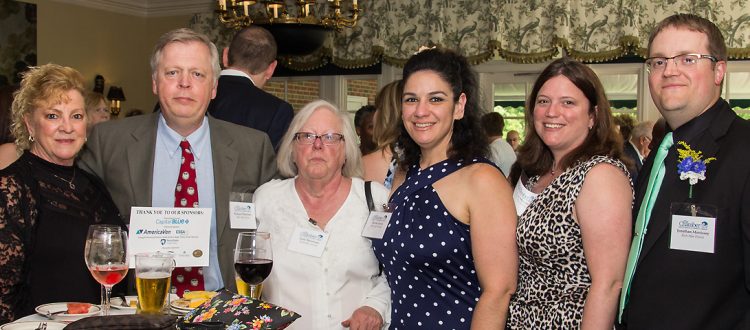 Rich Mar Florist Honored for Business Excellence
FTD congratulates longtime member Rich Mar Florist on receiving the 2017 Lehigh Valley Chamber of Commerce Excellence in Business award for Best Business Under 25 Employees (The Rich Mar team is pictured above at the Excellence in Business award presentation. Left to right are Mary Weaver, Richard Morrissey, Judy Morrissey, Darcie Garcia AIFD, Melissa Morrissey and Jonathan Morrissey.). In addition to this honor, Rich Mar is also an FTD Top 250 Partner. How have they maintained their upward trajectory for more than half a century? We asked Jonathan Morrissey, Rich Mar's Vice President, to share his family's story.
A family tradition
Rich Mar Florist first opened its doors in 1955 in the basement of a townhouse in Allentown, Pennsylvania. The business was founded by Richard Morrissey; his wife, Dolores; and his parents, Frieda and Vincent. In the 1970s, Richard's son, also named Richard, joined the business and became the head designer and manager of the store. He currently serves as president of the organization.
Richard Jr.'s son, Jonathan, joined the business after receiving his business degree from King's College in Wilkes-Barre, Pennsylvania. While it wasn't always a given that he would join the business, "I found that I really enjoy it," Jonathan said.
Community is key
According to Jonathan, Rich Mar's dedication to the community is a major reason the business continues to thrive 62 years after first opening its doors. "No matter where you live, you have to be involved in your community," he said. "You need to leave things better than you found them." Rich Mar is actively involved with the NASCAR Foundation, United Way, American Heart Association, Muscular Dystrophy Association and Lehigh Valley Chamber of Commerce, among others.
"We'll go out and do live designing in the community," Jonathan said. "We don't accept payment for it. Instead, we tell organizations to put it back in their scholarship funds." Giving back to the community in this way is also a passion of Jonathan's father. Additionally, Jonathan and his wife, Melissa, have also set up a scholarship for business students at King's College, their alma mater.
Local sporting involvement
Rich Mar is in the unique position of having affiliates of two professional sports teams in its community. The Lehigh Valley IronPigs (the AAA affiliate of the Philadelphia Phillies) and the Lehigh Valley Phantoms (the minor league affiliate of the Philadelphia Flyers) both call the area home. Rich Mar is involved with both teams' charities and has gained new corporate customers through working with fellow sponsors.
This dedication to the community meant that Rich Mar had no difficulty securing the requested letters of recommendation for the Excellence in Business award they won. FTD, a local news station, the IronPigs and the Phantoms all happily provided letters supporting Rich Mar.
Staying on the cutting edge
Rich Mar Florist isn't resting on its laurels. The shop's head designer, Darcie Garcia, is AIFD certified. The shop employees regularly attend design shows, pore over industry magazines and newsletters, scroll through Pinterest and tune into HGTV shows to stay on top of current trends.
"We're adapting with the times but still using old-school business practices," Jonathan said. "People still have relationships with our ownership."
Looking to the future
Jonathan's vision is for Rich Mar to become one of the largest retail flower shops in the state of Pennsylvania. He has an eye to combining Rich Mar's two retail locations and large warehouse into one large facility in the coming years.
"Our brand name has never had a higher value than it does now," he said. "We have people finding us, rather than us trying to find customers. It's been a long time coming. People believe in the brand."
0