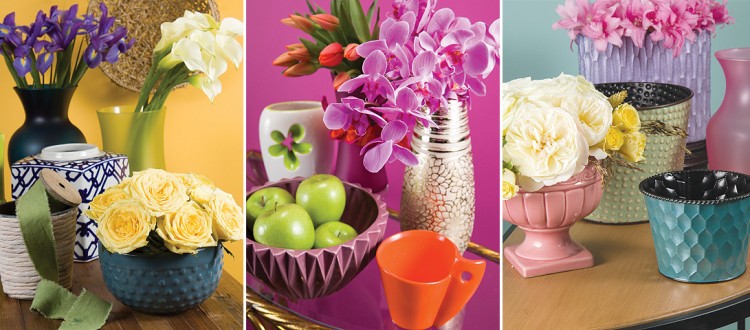 Maximize Your
Merchandising Potential
On August 16, FTD University hosted "Maximize Your Merchandising Potential," a webinar presented by J. Keith White AIFD. The webinar focused on key strategies for achieving maximum impact through visual merchandising. Weren't able to attend the webinar? Keep reading for Keith's key takeaways.
Colors
Pick an accent color that will draw customers into your shop and serve as a backdrop to your display. This is an opportunity to go with a really bold color that might overwhelm if used throughout your whole shop. If you're hesitant to paint a wall, you could use fabric. Once you've chosen an accent color, pick featured colors to layer on top of it.
Select key pieces
Once you have your color scheme in place, choose a bold featured piece that will really stand out in your display. As Keith put it, "show the best and sell the rest." You want to draw customers in with something eye-catching, but be sure you're displaying products at every price point.
Grouping
You can group items by color or display an assortment of textures. Everything in a display should work together to tell a story. Ask yourself "who, what, where, when and why?" when putting pieces together.

Multiples
Should you put all of your stock on the floor at once? It depends. Keith recommends displaying multiples of items that are meant to be sold several at a time, such as candles. On the flip side, don't display all of your larger, more expensive items. Customers are more likely to purchase these if they think there is only one available.
Use height
If you're selling items that are meant to be hung, such as lanterns, hang them so customers can envision their use. Just don't hang them out of reach because customers are less likely to purchase items if they need to ask for help to reach them.
Show usage
Rather than showing empty planters or baskets, try putting potted plants or other products in them. This shows customers how products can be used and it frequently inspires them to purchase more than one item from you.
Don't hide your flowers
Rather than relegating flowers to the back of your shop, display them in big bunches after processing them to create a dramatic impact when customers enter.

Use signage thoughtfully
Display signs that tell customers what services you can provide to them. While it's fine to display "special" and "sale" signs, avoid using too many "clearance" signs as this can cheapen your shop's appearance. You should also make sure that all items are priced so that customers don't have to seek you out for this information.
Who are you?
Last but not least, make sure you have a good understanding of your customer base. What is your market focus? What segment of buyers do you want to attract? You want to make sure that the products you offer in your store are desirable to the market segment you aspire to reach.
Be sure to visit FTD University to view recordings of our past webinars and register for future programs!
Image sources:
Florists' Review American Floral Trends Forecast. Keith White AIFD.
2