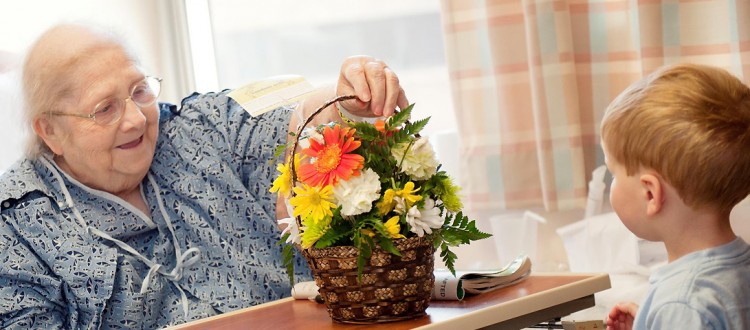 Join FTD in Supporting
Random Acts of Flowers
FTD is proud to partner with Random Acts of Flowers (RAF) and support their mission of brightening lives through the gift of flowers, delivering hope and encouragement.
Founded in 2008, Random Acts of Flowers recycles and re-purposes donated flowers to deliver beautiful bouquets and moments of kindness to individuals in healthcare facilities across the country. To date, RAF has donated more than 140,000 bouquets.
Founder Larsen Jay established Random Acts of Flowers after surviving a near-fatal accident. While confined to his hospital room, the outpouring of support he received in the form of daily visitors and dozens of floral arrangements immediately aided in his long recovery. Once he was capable of leaving his room, he noticed how many of his fellow patients did not have visitors or flowers, the very things that helped him so much in the early days following the accident. Larsen began to repurpose the flowers he received and deliver them to other patients, thereby making the very first "random acts of flowers" deliveries. From that simple gesture, RAF has flourished and now spreads kindness throughout the country.
RAF partners with floral professionals nationwide to utilize flowers that would otherwise go to waste. The charity focuses on gathering used, donated flowers that are destined for the garbage to "upcycle" them into bouquets for people who wouldn't normally receive flowers or are without a support network. With each delivery, RAF validates the importance of flowers and their healing properties.
RAF's branch locations are located in Chicago, Knoxville, Tampa Bay and Silicon Valley. An Indianapolis location will open this fall. FTD Florists within RAF's service area can become involved with RAF in the following ways:
Helping to train the volunteers who assemble Random Acts of Flowers bouquets for donations
Donating vases (florists can host a vase drive and thank donors with a coupon toward their next purchase)
Communicating to brides and event planners that they have the option to donate their used flowers for charitable reuse
To learn more about Random Acts of Flowers and get involved, please visit RandomActsofFlowers.org.
2