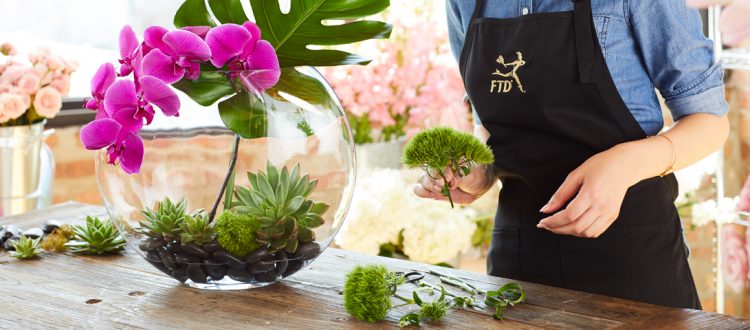 Floral Care and Handling Tips to Boost Your Bottom Line
On May 22, FTD hosted "Floral Care & Handling Tips to Boost Your Bottom Line," a live webinar presented by Steve Daum, Floralife's Director of Superflor Technologies. Weren't able to join us for the webinar? We've captured the highlights for you in this blog post.
During the webinar, Steve presented best practices for extending flower life and improving the customer experience. We've included the video below if you'd like to view the webinar in its entirety, or you can read on to learn more.
Why is care and handling important?
Flowers are a perishable commodity, and they're also a luxury good. They're often a splurge for customers, so it's important to do everything you can to deliver a great experience as well as a minimum of seven days of vase life.
Pillars of cut flower care
Steve discussed the three pillars of care and handling, which are time, temperature and sanitation.
Time
Since cut flowers are severed from their root system, it's important to minimize the time they spend outside of water or solution. You should also develop standardized procedures for prepping your flowers to ensure consistent quality.
Temperature
Temperature has the largest influence on vase life because it affects the metabolism rate of flowers and an increased respiration rate leads to a shorter vase life. Cut flowers respire three times more at 54 degrees Fahrenheit than they do at 34 degrees, so proper temperature is critical.
Sanitation
Sanitation helps prevent the growth of bacteria, which can lead to clogged stems followed by hydration problems and bent neck. Proper sanitation involves disinfecting, cleaning and deodorizing flower buckets, vases, counters, tools, work surfaces, coolers and your shipping and packing areas.
There are also specific steps you should take to prevent botrytis, AKA "grey mold." Botrytis is a fungus that attacks damaged, dead and dying plant tissue. To get ahead of botrytis development, reduce or eliminate temperature fluctuations, sanitize properly, remove grower sleeves from bunches and avoid wetting flower heads.
Customer care

The final component to proper care and handling is to educate your customers on caring for the flowers once they leave your shop. Be sure your staff informs all customers what to expect from individual flower varieties, since some can be expected to live longer than others. You should also include at least 10 grams of flower food and emphasize the importance of proper dosing since overdosing and underdosing can both have a negative impact.
Additional resources
The FTD Flower Exchange has partnered with Floralife to provide additional tools to our member florists. To view them, go to FTDFlowerExchange.com, log in with your credentials and locate the Floralife tab on the bottom left-hand side of the home page.
FTD University offers a robust lineup of FREE webinars. To view future webinar topics and register, please visit www.FTDi.com/FTDUniversity.
0