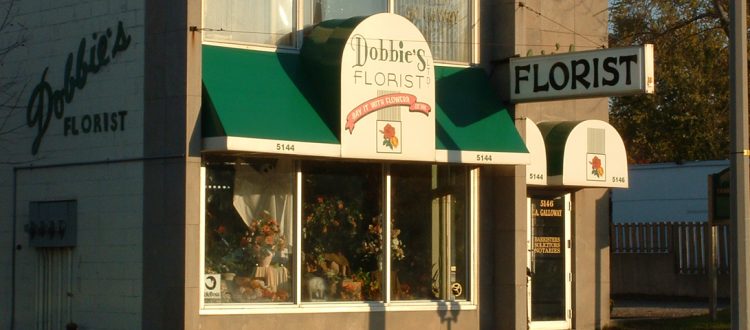 FTD Featured Florist:
Dobbie's Florist Limited
Dobbie's Florist Limited in Niagara Falls, Ontario, was founded in 1888 – before Niagara Falls was even incorporated as a city. Since then, four generations of the founding family have provided beautiful blooms to the community. Its rich history is peppered with memorable moments, such as providing the floral arrangements for the reception at which President William McKinlay was assassinated and supplying flowers and props for the Marilyn Monroe movie Niagara. FTD spoke with owner Bruce Vandersluys, who now runs the shop with his wife, Brenda, to learn how the shop has survived and thrived for more than a century.
FTD: Tell us a little bit about your shop's history.
Dobbie's Florist was founded by John Dobbie, a Scottish immigrant. He was a schoolteacher and principal but had a keen interest in botany that eventually led him to retire from teaching to work full time in the flower business. The business grew in size quickly as he was the first florist in the town and florists then grew practically all of their own flowers. Dobbie's joined FTD soon after the idea of wiring flower orders was developed.
Over the years, Dobbie's became known as the go-to florist for providing flowers for the royal family when they visited Niagara Falls. The family has provided decorations for events honoring Queen Elizabeth and Prince Philip, Princess Margaret and Princess Diana and her two sons, William and Harry.
One of the shop's most unusual jobs over the years was camouflaging chemical toilets that were brought in for a gala event celebrating the opening of new champagne cellars. Dobbie's met the challenge so well that the toilets were completely hidden with flowering branches and greenery. The end result was so decorative that attendees actually credited them with adding to the beauty of the outdoor setting.
While the shop has come a long way since its founding, it still continues some old traditions, including standing orders for cemetery decorations that have been in place for more than 90 years. The shop has also modernized with the times and now offers a vast line of local and exotic imported flowers and plants as well as gifts for all occasions.
FTD: Celebrating 130 years in business in quite the achievement! To what do you credit the shop's longevity
We truly love what we do. We try to stay current with the trends and technology, which is true of all four generations of Dobbie's Florist. Customers within our community trust that we will listen and provide what they are looking for and be creative at the same time.
FTD: Dobbie's is a fourth-generation shop. How have the younger generations been prepared to take over the business?
The younger generations have always been involved in this family business, from working in the greenhouses, to delivering flowers dressed as bunnies at Easter, to helping with websites and technology, to assisting with store renovations and working at holidays. That continues to this day. It truly has been a family business.
FTD: How do you keep customers coming back to your shop in an era when they're inundated with choices?
We try to stay current with technology, design and décor trends. My wife, Brenda, and I belong to business groups that are relative to ours and we network and learn from each other. Volunteering in our community is a family tradition. We're involved Rotary International, school breakfast clubs, Literacy Link Niagara, coaching sports and more. When it comes down to it, you have to develop trust, listen and give your best, be creative and be willing to give that extra service that you don't always find in others.
FTD: You've been an FTD Member Florist for 97 years. What do you value about your partnership with FTD?
Dobbie's Florist was one of the first in Canada to be FTD. Times have changed and in partnering with FTD, Dobbie's was able to keep up and evolve.
0