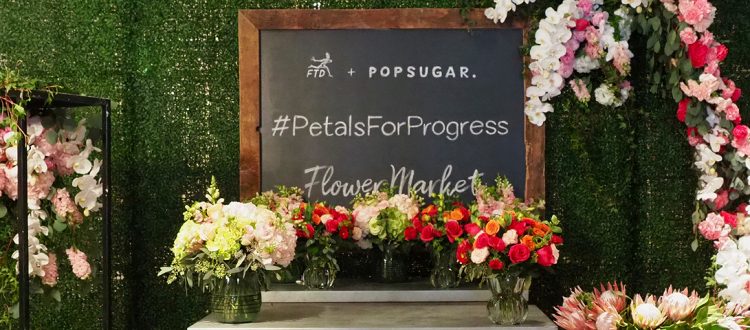 FTD Celebrates International Women's Day in NYC
FTD partnered with major social influencer POPSUGAR to celebrate International Women's Day in New York City on March 8. The event featured a breathtaking floral wonderland complete with 15,000 fresh flowers used to create walls of flowers, a flower-covered garden swing, carts of blossoms and a bouquet bar.
The FTD brand was prominently on display as FTD's lead floral designer, Andrea Ancel, led live floral-arrangement demonstrations. Sun Valley Floral Farms generously donated 10,000 bouquets to help New Yorkers celebrate the special women in their lives. Guests were also treated to gourmet dipped treats courtesy of Shari's Berries. Attendees were encouraged to share their experiences online using the hashtag #PetalsForProgress.
The event helped to reinvigorate the FTD brand and drive awareness among consumers in the lead-up to Mother's Day. POPSUGAR has a global audience of more than four million people, primarily women, and reaches one out of every three millennials. The company's site, popsugar.com, enjoys 3.1 billion global monthly content views.
International Women's Day honors women's achievements and celebrates acts of courage and determination by ordinary women who have played an extraordinary role in the history of their countries and communities. It was first observed in the early 1900s and is now an international day that is celebrated by the United Nations.
0