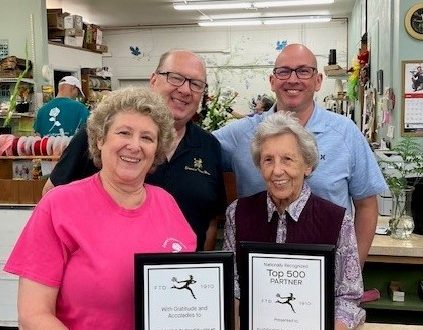 Celebrating 100 Years with FTD – Eugene's Flower Home
FTD is honored to recognize members of our florist network who are celebrating 100 years of membership this year. To commemorate this occasion, we paid in-person visits to our member florists' shops to express our gratitude for their century long relationship with FTD. These florists were presented with an anniversary plaque to display in their storefronts as a token of appreciation from FTD. Join us as we share the hometown stories and celebrate a century of floral excellence with these members.
During these shop visits, we were able to discuss origin stories with several shops, one of which being Eugene's Flower Home in Springfield, OR.
Eugene's Flower Home
Eugene's Flower Home began in May of 1922 – joining FTD just one short year later. In 1960, Robert and Pat Brooks took over the shop and two years later, built a new shop across the street from the original. In 1962, however, the Colombus Day storm took out their glass greenhouses which were fairly obsolete at the time. All of this history led this family into a brand-new chapter in 2014. In 2014, they decided to sell the property and move to Springfield, close to a new hospital in the area at the time, and that is where they reside today. Their children, Tim and Laurie, also now in ownership.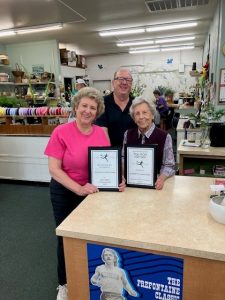 Tim and Laurie are third generation florists. They started working at the shop at a very young age (high school) and continued through their college years. These siblings are now partners in the business – their mother having retired at 90 years old and their grandfather still working in the greenhouses in his 90's!
Eugene's have a loyal, dedicated and (some) long-time staff who have helped them get through every high and low throughout the years. They enjoy helping people celebrate the most important joyful life events and give solace in their grieving times. In the past, they even attended many workshops and conference seminars at national and reginal conventions. There, they learned a lot of business tips and gained knowledge from networking with other florists, attributing to their expertise today.
Robert, Pat, Tim and Laurie's family-owned business impacts their local community in many positive ways. As stated above, they enjoy celebrating the important life moments with their customers. "We are constantly thanked for helping the community with their events, projects, or just even a birthday", said the pair. Even during the pandemic of 2020, these two stayed in shop and answered the phones to serve their customers in any capacity that they could.
"We are constantly thanked for helping the community with their events, projects, or just even a birthday."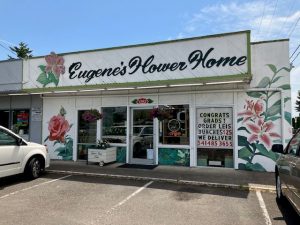 The future of Eugene's Flower Home is bright as they are always staying diligent to protect their market share in the floral industry and staying focused on providing their customers with top service, especially for holidays. Congratulations on 100 years of FTD membership, Eugene's Flower Home!
0