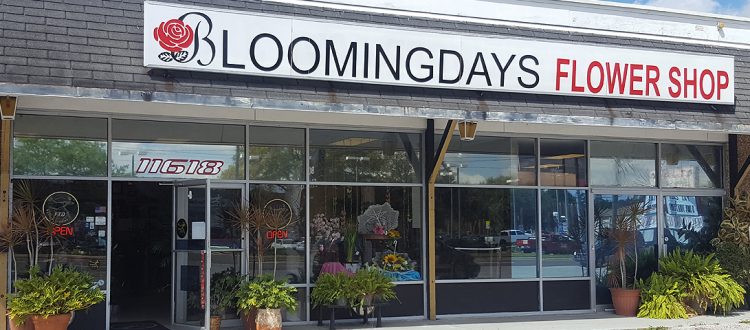 FTD Featured Florist:
Bloomingdays Flower Shop
Bloomingdays Flower Shop, located in Tampa, Florida, is proof that floristry is in the blood. After growing up watching her mother nurture the family business, Christine Vasconcelo is now at the helm of a shop that crafts breathtaking designs and documents them for customers and fans on social media.
"I can trust sending my orders FTD and they can trust me filling each and every one with quality design work."
Can you tell us a little about your shop? What is your specialty?
Bloomingdays was born in 1986 as a small shop on Fletcher Avenue in Tampa. It was an anniversary present from my dad to my mom after she had finished her career as a mom and decided to enter the workforce. He figured, "Why work for someone else when you can have your own business?" Thirty years later, the business has grown and I have taken on the lead role after learning all my skills from watching my mom. My mom passed away in 2013 and I decided I would continue in her memory.
Our specialty is the special attention we give to each and every order. No order is too big or too small, we take them all and we love our customers. Since my passion is so strong for the industry, there is a bit of love in everything I do.
What made you want to become a florist? How long have you worked in floristry?
I had no choice! It was the family business; I had to work. I worked there every day after school as well as on the weekends. I worked there while going to college and then finally decided this was the business for me. I watched my mom closely and picked up all her skills and was able to learn how to design that way. I've worked in the business for 30 years.
What do you enjoy most about being a florist?
I love flowers and the ability to be able to be creative with them. I enjoy coming to work every day. Mind you, I do work seven days a week and 10- to 14-hour days. The hours go by quickly when you do what you love. I love that I have the ability to make people happy with my design skills. I love challenges and I'm always up for trying something new.
Are there any current floral trends that really excite you?
I love whimsical weddings, that thrown-together look that young brides love and that is all over Pinterest. I love working with all types of greens. Succulents are another favorite.
What advice do you have for florists looking to attract new customers?
Show off your work!
You have a really active social media presence. Have you found that Facebook helps drive business to your shop?
I love my Facebook page. It really allows me to show what we are working on daily in our store and shows customers what we can do. We also try to have contests and trivia to interact with customers from time to time. We make it fun, not just about buying on the holidays. I also like to showcase weddings as they are being set.
What do you value most about your partnership with FTD?
It was a great feeling to be recognized as a Top 100 Partner. It took some time to get there, but it was always my goal. FTD stands for quality and top customer service. There have been a lot of changes over the years, but FTD has always been the industry leader, keeping their designs and products in line with the current trends. I can trust sending my orders FTD and they can trust me filling each and every one with quality design work.
0