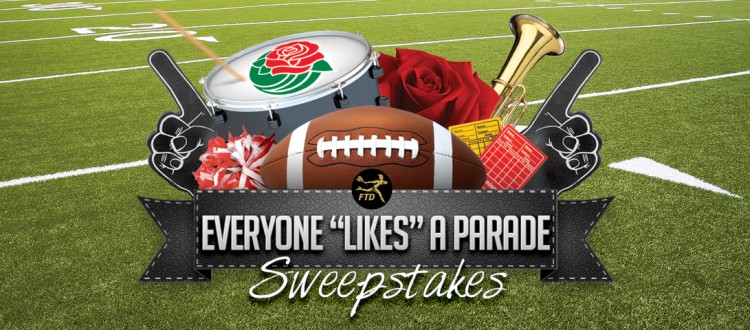 Want a Free Trip to the
Rose Parade?
Watching the Tournament of Roses Parade is a New Year's tradition almost as ubiquitous as toasting at midnight. Would you like to be the envy of your friends and enjoy the parade in person?
Once again, FTD is going to make it happen for one lucky member florist.
Everyone "Likes" a
Parade Sweepstakes
One winner will receive a trip for two to Pasadena, CA, that includes airfare, hotel, car rental, $500 in spending money, a VIP tour and tickets to the 2017 Rose Parade and Rose Bowl game.
Enter Now
FTD is proud to be the Official Floral Partner of the Tournament of Roses. Last year, FTD Education Consultant J. Keith White AIFD celebrated his tenth year decorating the parade's VIP vehicles. His small design team decorated four official parade vehicles with a total of 6,000 flowers, the vast majority of which were grown locally in California. These stunning designs took more than 1,120 man hours of continuous work!
The winner of Everyone "Likes" a Parade will have the opportunity to go behind the scenes with Keith and his team to learn what it takes to create the show-stopping designs as well as accommodations for four nights, affording plenty of time to take in all of the festivities surrounding the Tournament of Roses and revel in the beauty created by the floral industry. This sweepstakes is just one way that we at FTD thank you for your partnership!
No purchase is necessary to enter the sweepstakes. The contest closes on September 30, so enter today!
2