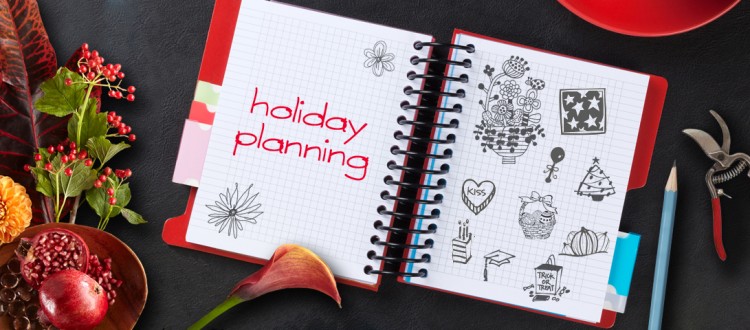 Start Planning Now for
Holiday Orders
As days get shorter and trees display their autumnal beauty, the lazy days of summer are replaced with the busier pace we florists have yearned for. It is also the last chance to get on top of planning for the holidays. For decades, florists passively waited for business to arrive for the five traditional holidays: Thanksgiving, Christmas, Valentine's Day, Easter and Mother's Day. Some years were good, some years were not – much like a roll of the dice.
Over the years, some of those holidays lost their influence while others gained popularity – think about Halloween! Today's list of floral holiday opportunities should include:
Grandparents Day
Halloween
Veterans Day
Thanksgiving
Christmas
Valentine's Day
Easter
Administrative Professionals Day
Mother's Day
Memorial Day
Fourth of July
Additionally, examine the religious sects in your local market to pinpoint untapped occasions to include in your holiday planning, such as Hanukkah and Kwanzaa. A good source for this information is www.interfaithcalendar.org.
After defining the occasions you want to pursue, determine the product offerings for each. Some will need several gift opportunities while others might need just one or two. Ideally, you should look for containers that can serve for several designs to allow for increased product selections without overstuffing your inventory. Do not try to generate items by yourself. Allow design staff to create items and host competitions where your customers vote to determine product names as well as which products "make the cut" from the planning stage to the final offering – this is a great attention-getter for use on social media, spawning audience interaction as well as attracting new followers (which can increase your customer base.)
Take advantage of the codified and everyday containers at FTD Marketplace as well as WebGifts, which allows you to offer hundreds of products to your customers without adding any inventory.
Holiday planning needs to entail more than just reviewing sales numbers from previous years and making purchases based upon your desire to increase sales. The savvy florist knows good planning includes examining sales, making educated predictions and the ever-important aspect of incorporating a focused marketing campaign. Let's face it, the best plans in the world are worthless if customers do not purchase – and how will they purchase if they don't know what you offer?
Decide your preference for advertising. Direct mail? Email? Print? Radio? Cable? Billboards? Social media? Your budget probably will not allow for all of these, so select those you can afford and those you can manage. Some holidays may require more mediums while others will require less or different venues.
Do not forget the importance of your website in marketing your products. Keep it updated and relevant to your product offerings. Holiday products should be posted on the site no less than 30 days (preferably 40 days) ahead of the holiday. Not only does this allow customers the opportunity to see the products on your site – and plant seeds for impulse purchases – it also allows the products and your business to get ranked into the free organic results of search engines (Google, Bing, Yahoo!, etc.).
Jeff Corbin AIFD, AAF, CFD, PFCI
Active in the floral industry for more than 30 years, Jeff Corbin is the owner and designer at Radford City Florist in Radford, VA. Jeff is a past president and charter member of the Virginia Professional Florist Association as well as a past chairman for the Professional Floral Communicators – International (PFCI). Jeff has traveled throughout North America leading hands-on workshops, participating on design panels and presenting commentary on both design and business in the floral industry.
2